TechGreatest
You Can Most Certainly Expect Apple To Ship A Gold iPhone 5S According To TechCrunch And AllThingsD
Over the last few weeks we have been hearing more and more about how the iPhone 5S is going to come in a gold or champagne color and now TechCrunch's MG Siegler has been able to confirm that it is the truth.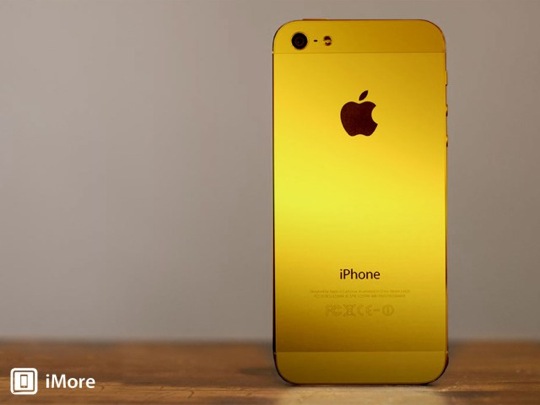 He stated "Yes, there will be a gold iPhone," and further went on to say:
That's the latest I'm hearing from multiple sources after several weeks of rumors and possible component leaks suggesting the same thing. At first, I couldn't believe Apple would break from the tradition of offering the simple choice: black and white (or "slate" and "silver" if you prefer for the iPhone 5) for their flagship device. Gold simply seemed too gaudy, perhaps even tacky. But a few compelling arguments countered my disbelief. And now, upon checking, sure enough, there will be gold."
When it comes to predicting Apple's future plans Siegler has a solid track record. He was able to forecast the release of iTunes Radio among many other products and considering the amount of leaks we have been seeing lately it isn't hard to believe a gold iPhone 5S is coming.
It won't be a blinged-out gold though, Sielger explains "Think: less "gold" and more "champagne". In other words, more like the old gold iPod mini. (Incidentally, this model of the iPod mini was the shortest-lived, presumably because it was less popular.) The gold tone also apparently shifts depending on how light is hitting it."
So it looks like the iPhone 5S is on-track to have 3 color options, up to 128GB of storage, a fingerprint scanner, dual-LED flash and of course improved internals. We will have to wait and see what becomes reality on September 10th. In the mean time what would you think of a gold iPhone 5S?
Update #1: Now AllThingsD has also confirmed the existence of the Gold iPhone 5S and have said "Sources in position to know tell AllThingsD that Apple, after years of offering the iPhone in either black and white, will soon offer it in a gold tone as well."
The post You Can Most Certainly Expect Apple To Ship A Gold iPhone 5S According To TechCrunch And AllThingsD appeared first on iJailbreak | Unconventional Jailbreak And iOS News.