Back in April, Yahoo! launched Weather, an app that was available exclusively for iPhone and iPod Touch. Weather was such a success that Apple has decided to award Yahoo! with a design prize and has copied its user interface, employed in iOS 7.
The app displays local weather beautifully with a Flickr photo in the background, humidity and wind animations and up to ten days of forecasts. You can add as many cities as you want by pressing the + button in the upper right corner.
Now, the wait is over for Android users: Yahoo! Weather is available on the Play Store for a wide variety of devices sporting Google's mobile OS.
This is the official list of features:
Highly acclaimed design with beautiful photos that match your location, time of day, and current weather condition
Detailed weather information, including 10-day and 24-hour temperature forecasts
Interactive radar, satellite, heat, and wind maps
Severe weather alerts
Animated sunrise & sunset times and wind & pressure modules
Humidity sensor, UV index, and chance of precipitation
New home screen widgets
Weather was previously available for Android but didn't have the same design and interface as its counterpart in iOS.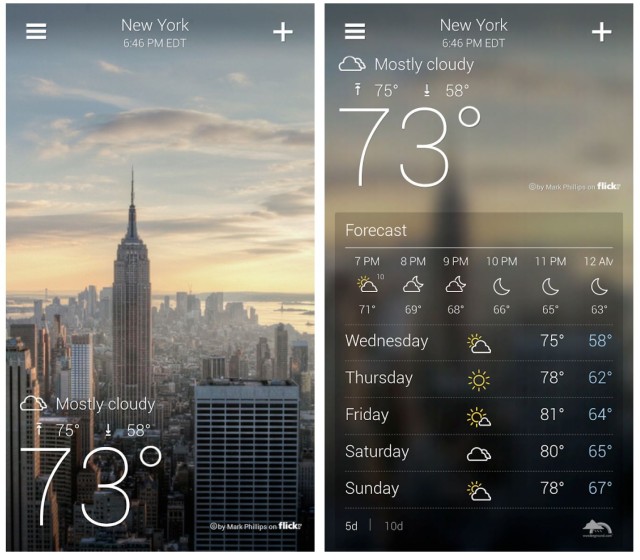 Once you download and open the app on your Android device, you'll see a quick user guide. You can sync weather locations stored on other devices when you log in to your Yahoo! account, add a widget to your home screen and get quick weather information when in landscape mode.
Have you downloaded Yahoo! Weather? Do you like it? Let us know in the comment section below.
Download Yahoo! Weather for Android [Play Store Link]
The post Yahoo! Weather Now Available For Android appeared first on iJailbreak | Unconventional Jailbreak And iOS News.