TechGreatest
When You Buy A 16GB Galaxy S IV, Only 8GB Is Usable Because The Operating System Is So Bloated
We previously covered some initial reviews of the Samsung Galaxy S IV and today even shared one of the first drop test against the iPhone 5. At this point we can conclude that the Galaxy S IV is an impressive phone with some serious performance and a beautiful display, but lacks when it comes to build quality. Furthermore, people feel that Samsung tried to pack in too many features in the Galaxy S IV.
Speaking of features, guess how much memory the Galaxy S IV's operating system takes up? Over 7 Gigabytes! That's right. That means if you purchased a 16GB Galaxy S IV you would be left with only just over 8GB of storage. CNET reported today that "nearly half of the S4′s storage space (after a factory reset, our 16GB Galaxy S4 showed 8.49GB of available room) is taken up with the phone's operating system and built-in apps."
Users have been raging to Samsung over Facebook about the lack of storage, claiming that Samsung should advertise the Galaxy S IV's storage differently. One commenter wrote "Samsung should be selling this as an 8GB phone, not 16GB!" Another individual said "This is a scam and mis-advertising," and "I personally feel that if you buy a 16GB phone, it should have 16GB available for the user. When I buy a pint I expect a pint."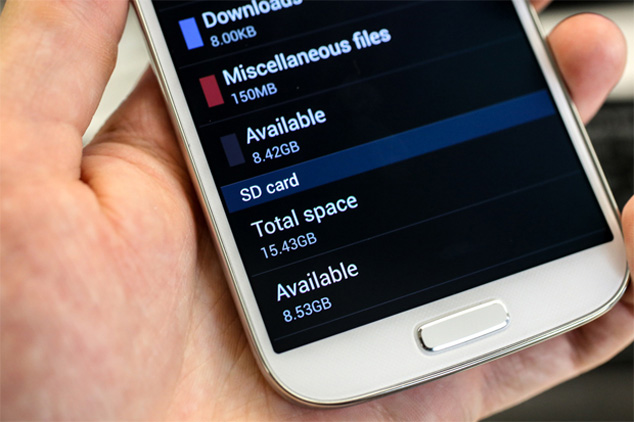 In comparison the storage taken up by iOS is roughly 1GB, so you can see how users are getting frustrated.
Samsung was obviously quick to defend the situation and stated "For the Galaxy S4 16GB model, approximately 6.85GB occupies [the] system part of internal memory, which is 1GB bigger than that of the Galaxy S3, in order to provide [a] high resolution display and more powerful features to our consumers." Of course the Korean company also mentioned "To offer the ultimate mobile experience to our users, Samsung provides [a] microSD slot on Galaxy S4 for extension of memory."
Considering that Samsung does offer MicroSD expansion, it is not the end of the world for Galaxy S IV owners, but it does mean you need to spend more money on an already expensive handset. What do you think about the Galaxy S IV using so much storage for the operating system? Let us know in the comments section below.
The post When You Buy A 16GB Galaxy S IV, Only 8GB Is Usable Because The Operating System Is So Bloated appeared first on iJailbreak.com | Jailbreak | iOS | Apple | Android | Google | Microsoft.