TechGreatest
Watch Two New Clips From Upcoming Steve Jobs Biopic 'Jobs' [VIDEO]
The much waited Steve Jobs biopic 'Jobs' will finally hit theatres across the world Friday. It stars Ashton Kutcher as Steve Jobs and Josh Gad as Steve Wozniak, two names that mean everything to Apple. We've seen plenty of photos, reviews, interviews and trailers from the movie. Today, Yahoo and MTV have released two new clips from the Jobs movie.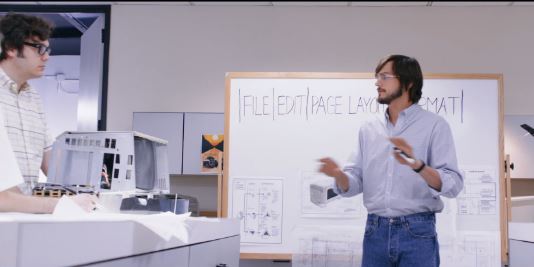 Yahoo released a short clip from the movie that shows Steve Jobs giving an inspirational speech to his employees. The clip is titled 'Start Over' and you see Ashton Kutcher as Steve Jobs talking about 'Why people buy Apple products'. Ashton Kutcher has done a really good job in portraying Steve Jobs. Watch the clip below:
The second clip comes from MTV, which includes interviews from director Joshua Michael Stern, Ashton Kutcher and Josh Gad etc. This clip is longer than the first one and includes previews from the movie that you may have seen before.
Still, it gives a sneak peek into how 'Jobs' was directed. Give it a watch after the break:

Jobs has received a lot of positive reviews from reviewers, however, some suggest that the movie has factual errors. It was first previewed to select audience at the Sundance Film Festival earlier this year. Ashton Kutcher has also been praised a lot for his acting in the movie. He actually does a great job of being Steve Jobs. This is a must watch movie for all Apple fans and non-fans. A very inspirational movie on a very inspirational person, I can't wait to watch it tomorrow.
What are your thoughts on the movie? Let us know in the comments.
The post Watch Two New Clips From Upcoming Steve Jobs Biopic 'Jobs' [VIDEO] appeared first on iJailbreak | Unconventional Jailbreak And iOS News.