TechGreatest
Watch Tim Cook's Full D11 Interview Online Right Now [VIDEO]
Tim Cook spoke at AllThingsD's D11 conference last night and in this interview Cook actually shared a lot of information on a number of topics including the iWatch, Android, iOS 7 and so much more. If you missed watching the interview and you are an Apple fan then you should definitely check it out.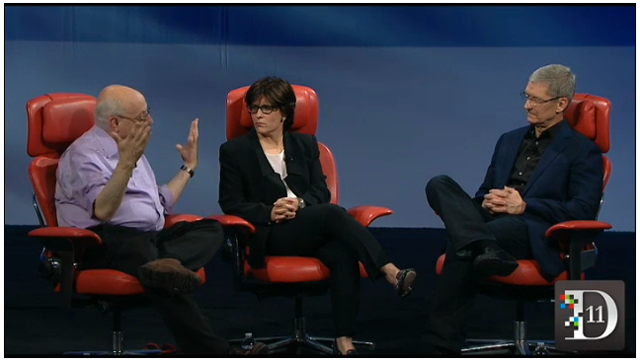 Right now the entire 1 hour and 21 minute interview is available to watch over at AllThingsD (and has been embedded below). If you remember last year the site waited a few weeks before posting the video of the interview, so it is great that this year AllThingsD decided to post it almost right after.
Obviously in this interview Tim Cook doesn't reveal any of the company's future plans, but he commented on more than usual. He shared that Apple sold over 85 million iPhones and 42 million iPads in the last two quarters and over 13 million Apple TVs altogether. More interestingly, when asked about Apple's plans for the living room he said "there is a grand vision."
Considering that wearable computing is making waves over the tech industry Cook stated he sees wearable computing "a very important branch of the tree [and the company is] very involved [in it]."
With all of this talk on an iOS 7 that will be less skeuomorphic, Cook commented "We recognized Jony had contributed significantly to the look and feel of Apple over many many years, and he could do that for our software as well."
Unfortunately if you were expecting an iPhone with a larger display you will be disappointed to hear that Apple is uninterested in pursuing such a handset at the moment due to the tradeoffs that still exist.
These were just some interesting points that came out of yesterday's interview with Tim Cook. Make sure you watch the full Tim Cook D11 interview above and be sure to let us know what you think of some of Cook's comments below.
The post Watch Tim Cook's Full D11 Interview Online Right Now [VIDEO] appeared first on iJailbreak.com | Jailbreak | iOS | Apple | Android | Google | Microsoft.