TechGreatest
Upcoming Semi-Restore Tool Will Allow You To Restore To Your Current Firmware Version
Right now, depending on your iOS device, it is not possible to re-restore your device back to the firmware version it is running as Apple forces you to update to the latest version. If you are not Jailbroken then this isn't a bad thing, but because Apple patched the Evasi0n exploit in iOS 6.1.3, this is something Jailbreakers obviously want to avoid like the plague.
A new application is currently being developed though called Semi-Restore that will allow you to do a clean semi-restore to the firmware version you are currently running. This means if you want to restore your iPhone 5 back to iOS 6.1.2 you could do a semi-restore (it cannot be a full restore as this would force an update) and essentially run a clean version of iOS 6.1.2 again.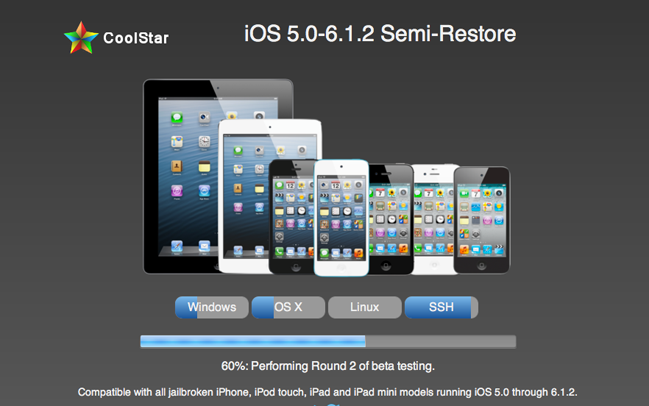 If your device is running slow then doing a semi-restore back to the current firmware version it is running could be what it needs. Best of all you don't even have to have saved SHSH blobs or APTickets.
All the Semi-Restore requires is:
5-10 minutes of your time!
A computer running Windows or Mac OS X
OpenSSH and APT 0.7 Strict (NOT THE LIB) installed on your device
An SSH client on your computer (USB version coming soon)
It is important to keep in mind that this will not downgrade your device, but as mentioned previously, semi-restore it back to the firmware version it is currently running for a clean slate.
At the time of writing this article Semi-Restore is about 60% complete and when it is finished it will be available for both Windows, Mac OS X and Linux. You can learn more about the tool by visiting its official website.
We will keep you guys updated on Semi-Restore's progress. Until that time stay tuned. We will keep you guys updated on Semi-Restore's progress. Until that time stay tuned.
The post Upcoming Semi-Restore Tool Will Allow You To Restore To Your Current Firmware Version appeared first on iJailbreak.com | Jailbreak | iOS | Apple | Android | Google | Microsoft.