If you are thinking of buying the new Samsung Galaxy S4, but are not sure if it will be a good investment or just want to take a look at its features without having to go to a store, you should definitely try the following option.
The only thing you need to do is open your computer browser – you can't have access from an iPad or an iPhone because you need Adobe's Flash installed – and open the website that Samsung created to demonstrate its flagship phone's characteristics.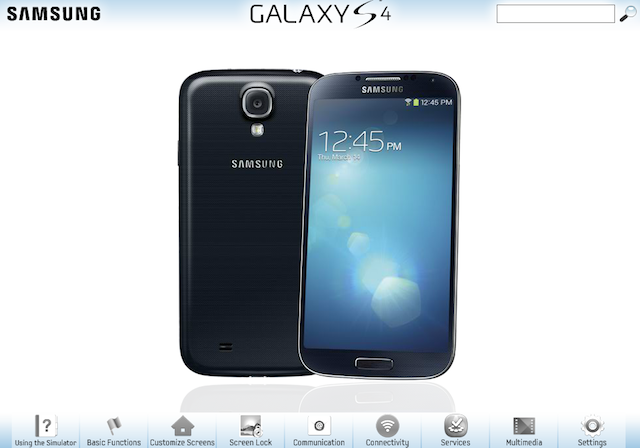 The Galaxy S4 simulator is divided into 8 categories including Basic Functions, Customize Screen, Screen Lock, Communication, Connectivity, Services, Media and Settings, plus a "Using the simulator" tab.
In these tabs you will find features such as Smart Scroll, that lets you use your eyes to read a website and move through the screen without you using your fingers, or S Beam, a function that enables you to bump the back of another Android product to share files, videos and photos.
The simulator offers a great variety of tutorials that guide you through every feature while explaining everything that happens, so you can understand every aspect of the South Korean company's new product. Of course, the simulator has its limitations. You can't possibly get a feel for screen definition or speed of response on a computer. But as a general summary of new Samsung content it does the job and it's certainly got me interested.
It is, as you would expect, free and as a mentioned before requires Flash to work. Have you tried it? Has it changed your opinion on the product? Let us know in the comment section below.
The post Try The New Galaxy S4 On Your Browser appeared first on iJailbreak.com | Jailbreak | iOS | Apple | Android | Google | Microsoft.