TechGreatest
The Name Your Own Price Mac Bundle 3.0 Featuring Camtasia 2 [Deals]
Just when you thought things couldn't get any better, they did! For a limited time iJailbreak is offering The Name Your Own Price Mac Bundle 3.0! With this Mac bundle you can pay whatever price you want to get three awesome Mac applications that include Airy, My LIving Desktop and Compartments.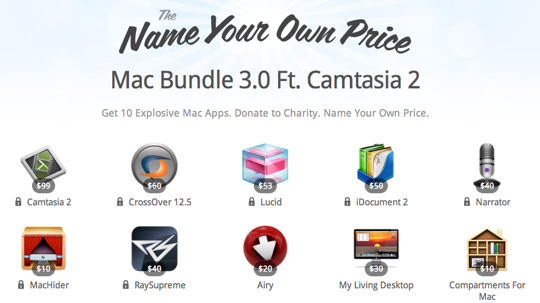 If you decide to pay more than the average price (which at the time of writing this article is just over $11) then you will also receive Camtasia 2, CrossOver 12.5, Lucid, iDocument 2, Narrator, MacHider and RaySupreme.
10% of whatever price you decide to pay for these applications will also go towards helping a charity of your choice as well! This includes either Child's Play, World Wildlife Fund or Creative Commons.
In case you haven't heard of the Mac applications that are up for grabs, check them out below…
Camtasia 2: Easily Create Stunning Screen Captures & Video Recordings.
CrossOver 12.5: Run Windows applications and PC games on your Mac.
Lucid: Dream It & Build It With This Imaginative Software.
iDocument 2: The Simplest & Smartest Document Management Application For Mac.
Narrator: A Killer Text-to-Speech Tool for You and Your Mac.
MacHider: The Cutting Edge Solution to Hiding Your Private Files & Folders On Your Mac.
RaySupreme: A Revolutionary 3D Modeling and Rendering Application.
Airy: A YouTube Downloader For Your Mac.
My Living Desktop: Bring Your Desktop to Life With Beautiful & Moving Environments.
Compartments For Mac: Protect Your Valuable With This Home Value Inventory Software.
So, what are you waiting for? Grab all 10 of these awesome Mac applications before the average price goes up!

The post The Name Your Own Price Mac Bundle 3.0 Featuring Camtasia 2 [Deals] appeared first on iJailbreak | Unconventional Jailbreak And iOS News.