TechGreatest
The iPhone 5s In-Store Pickup Option Makes A Comeback
Those that are still trying to get their hands on the iPhone 5s will be glad to know that you can currently purchase one from Apple.com and collect your order for a local Apple Store. That's right, Apple has brought its in-store pickup service back after its disappearance due to extremely high demand last week.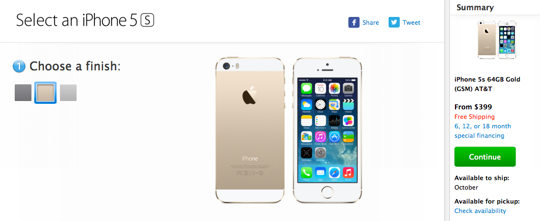 At this point it isn't known how long this is going to last for because last time it surfaced the option was removed a day later. So you better act fast just like the GBA emulator on the App Store we previously shared with you.
The iPhone 5s is without a doubt still in high demand, especially if you want the grey or gold model so don't expect to them to be readily available yet. Furthermore, not all Apple Stores have an in-store pickup option available yet, this is especially the case with bigger and busier Apple stores.
Don't be surprised if you see this option removed again, but for the time being it is back and is probably the quickest way to get your hands on an iPhone 5s. As those wanting their iPhone 5s delivered right to their door will have to wait until sometime in October.
The post The iPhone 5s In-Store Pickup Option Makes A Comeback appeared first on iJailbreak | Unconventional Jailbreak And iOS News.