TechGreatest
The iPhone 5S Could Feature A 64-Bit A7 Chip That Is 31% Faster And A Separate Motion Tracking Core
If the Fox news reporter Clayton Morris is to be believed then the Fruit Company could be looking to include a 64-bit A7 processor in the iPhone 5S. Morris tweeted yesterday "Sources are telling me the new iPhone's A7 chip is running at about 31% faster than A6. I'm hearing it's very fast."
A 64-bit A7 processor that is 31% faster than its predecessor wasn't all that Morris had to say though, he also claimed that there would be a separate chip for motion sensing "I've also heard there's a separate chip devoted to motion tracking. Should be an interesting camera upgrade." He speculates that this will play into the camera upgrade.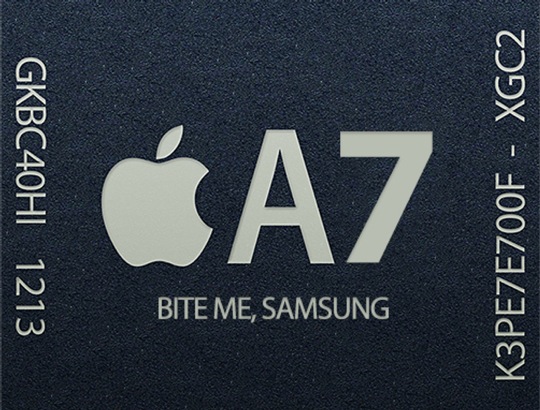 So just why would Apple want to make the iPhone 5S feature a 64-bit processor? Well according to 9To5Mac it would  be to assist in making animations, transparencies, and other iOS 7 graphical effects appear much more smoothly than on existing iOS Devices
As such this new 64-bit A7 chip likely wouldn't be limited to just the iPhone 5S, but rather the next-generation iPads as well.
There are some problems with this claim by Morris though. Why haven't be seen hints of this in the source code of iOS 7? You would think if Apple really was prepping for a new 64-bit architecture that there would be some hints in iOS 7 beta firmwares.
It is more likely that we would see 64-bit chips in 2014 with the introduction of A8 processors. Analyst Ming-Chi Kuo thinks we could indeed see a 64-bit processor introduced this year though, but he further elaborated "If the move does not happen this year with the A7, expect it to happen with the A8."
It is also worth noting Morris also brought up the fact that the iPhone 5S would feature a fingerprint scanner, and slow-motion video recording. He also said the upcoming iPhone 5C, otherwise known as the budget iPhone, would  "essentially be an iPhone 5 with a plastic shell."
The post The iPhone 5S Could Feature A 64-Bit A7 Chip That Is 31% Faster And A Separate Motion Tracking Core appeared first on iJailbreak | Unconventional Jailbreak And iOS News.