TechGreatest
The Evasi0n Jailbreak Tool Sent More Traffic To Mega.co.nz Than Facebook Or YouTube
After the U.S. authorities took down Megaupload last year, its creator Kim Dotcom and friends launched Mega.co.nz. This new file hosting website started with a bang, it received so much traffic the first few days of launch some people could not even access the site.
According to a tweet from MuscleNerd earlier today the Evad3rs' Jailbreak tool Evasi0n sent more traffic to Mega.co.nz than Facebook or Youtube. The only website to refer more traffic to Mega.co.nz was Google and only narrowly by less than 1%.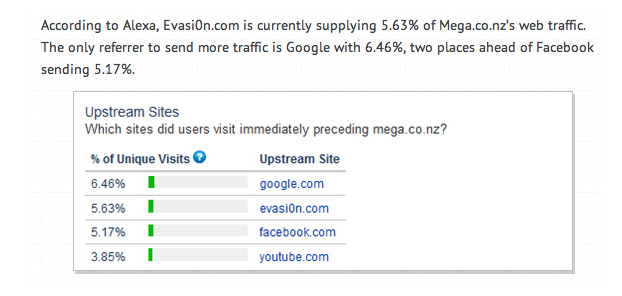 That is extremely impressive to say the least considering that Mega.co.nz has grown to become the third most visited .co.nz domain name.
This just further goes to show how popular the Evasi0n Jailbreaking tool really was. Evasi0n was used to Jailbreak just under 20 million devices in only just over a month and the number is probably even higher now. These numbers greatly exceed previous Jailbreaks such as JailbreakMe 3.0, which was released in the Summer of 2011 by Comex and was used to Jailbreak around 2 million devices.
Eyes will be on the Evad3rs when Apple releases iOS 7 to see if they can once again work their magic and bring an Untethered Jailbreak into existence. Apparently they have some reserve exploits that they have been saving, so hopefully we will not have to wait as long as we did with iOS 6.
The post The Evasi0n Jailbreak Tool Sent More Traffic To Mega.co.nz Than Facebook Or YouTube appeared first on iJailbreak.com | Jailbreak | iOS | Apple | Android | Google | Microsoft.