TechGreatest
Samsung Is Leading The Way In 5G Network Development And Has Reportedly Achieved 1 Gbps Download Speeds
Just when you thought your 4G LTE connection was fast enough, Samsung has come along and put it to shame. The Korean company has announced today that they have created 5G mobile communications technology that offers data transmission speeds of up to several tens of Gbps per base station. 10 Gbps is just the theoretical download speed mind you, but Samsung has been able to pull off impressive speeds in their lab of 1Gbps.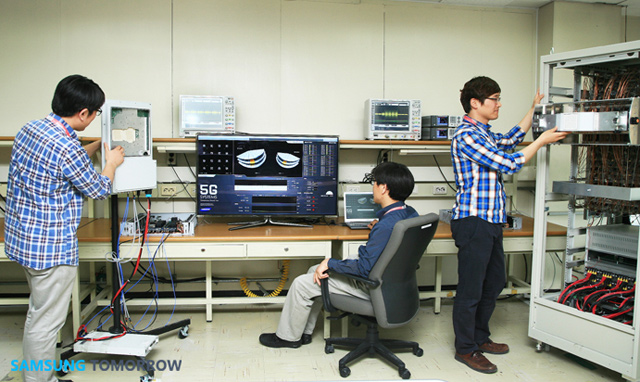 To put these insane download speeds in perspective, 4G LTE networks right now have only reached 75 megabytes per second. With speeds of 1 Gbps you could be downloading full-feature 1080p films in seconds, streaming 4k quality movies and much more. If Samsung is able to reach its theoretical limit of 10 Gbps then there really wouldn't be anything you couldn't do with your data connection.
We will allow Samsung to give you the basic rundown on how this all works:
The implementation of a high-speed 5G cellular network requires a broad band of frequencies, much like an increased water flow requires a wider pipe. While it was a recognized option, it has been long believed that the millimeter-wave bands had limitations in transmitting data over long distances due to its unfavorable propagation characteristics.

However, Samsung's new adaptive array transceiver technology has proved itself as a successful solution. It transmits data in the millimeter-wave band at a frequency of 28 GHz at a speed of up to 1.056 Gbps to a distance of up to 2 kilometers. The adaptive array transceiver technology, using 64 antenna elements, can be a viable solution for overcoming the radio propagation loss at millimeter-wave bands, much higher than the conventional frequency bands ranging from several hundred MHz to several GHz.
Although Samsung won't be able to commercialize the technology until 2020 it brings up some big questions like how will Samsung license the technology? And what will the battery life of 5G devices have to be like? Luckily there is lots of time to figure out these details, and for the time being it looks like the future of mobile communications is looking bright.
The post Samsung Is Leading The Way In 5G Network Development And Has Reportedly Achieved 1 Gbps Download Speeds appeared first on iJailbreak.com | Jailbreak | iOS | Apple | Android | Google | Microsoft.