In a new research note by KGI analyst Ming-Chi Kuo, he predicts Apple's 2014 product roadmap, including details about all the products such as the iWatch, iPhone 6 and much more.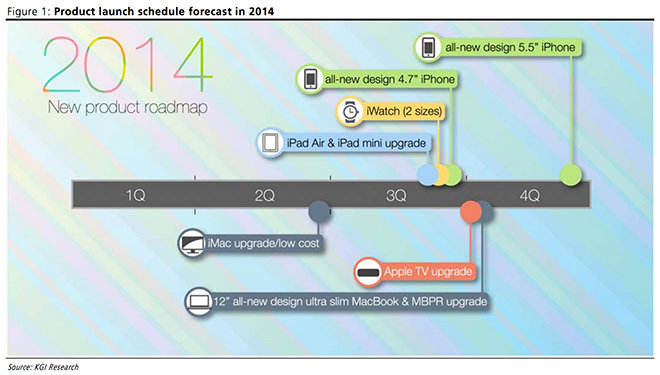 According to analyst Ming-Chi Kuo, Apple will be releasing 2 new products in Q3 2014 and will update the iPad Air and iPad mini. The 4.7-inch iPhone 6 and the iWatch will be announced in Q3 as per Kuo. He also says that the iWatch will come in two sizes, 1.3-inch and 1.5-inch flexible AMOLED display with sapphire cover. More on the iWatch, it will come in a variety of materials, will have NFC, have a secure-element biometric recognition and the most expensive model will cost thousands of dollars.
"We believe the rumored iWatch will be Apple's most important product this year, carrying much more weight than iPhone 6 as market feedback for the product should reveal whether Apple still has the ability to continue making game-changing products with Tim Cook at the helm."
He also predicts that a new 12-inch MacBook will be announced in Q4, along with an upgrade to the Apple TV and MacBook Pro. Also, the 5.5-inch iPhone 6 version will be unveiled sometime in Q4, which goes well with a recent report from a Taiwanese newspaper. A low cost iMac upgrade is also in the pipeline and could be announced in late Q2.
That's a lot of new products and upgrades for Apple. If the iWatch and the iPhone 6 is a hit, the company will have a very good 2014 and early 2015. Which of these products do you think Apple will release?
[via AppleInsider]
The post Report: Apple's 2014 Product Roadmap appeared first on iJailbreak | Unconventional Jailbreak And iOS News.