TechGreatest
NotCom Updates TinyUmbrella To Version 6.14.00 To Support Saving iOS 6.1.4 SHSH Blobs
Apple surprisingly released the iOS 6.1.4 firmware today for both the GSM and CDMA iPhone 5 that brought about a new audio profile for speakerphone. Although the percentage of Jailbreakers who have actually updated to iOS 6.1.4 is going to be small, considering there is no way to Jailbreak on iOS 6.1.4, NotCom has updated TinyUmbrella to version 6.14.00 to support saving iOS 6.1.4 SHSH blobs.
According to NotCom's official blog post "TinyUmbrella was updated for the stealth iOS 6.1.4 release for iPhone5,1 and iPhone5,2. Enjoy."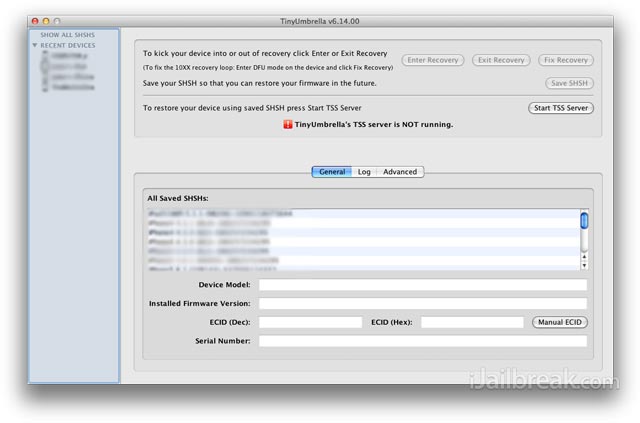 If you have an iPhone 5 running iOS 6.1.4 you might as well save your SHSH Blobs just to be safe. Why save your SHSH Blobs? Well…
I have said this many times, but I am going to repeat myself. Although the usefulness of saving your SHSH blobs is becoming less and less, the possibility that a new exploit could be found to once again re-open downgrading is pretty high. It is better to save your SHSH blobs in case you accidentally update to a new firmware version and a downgrading solution is found requiring them, rather than missing out on the downgrade because you were too lazy to save your SHSH blobs. Furthermore, saving your SHSH blobs allows you to re-restore to the same firmware version you are currently running, when Apple stops signing it.
If you would like to download TinyUmbrella v6.14.00 then you can head on over to the iJailbreak Downloads Section or use one of the direct links shown below.
Download TinyUmbrella v6.14.00 (Windows)
Download TinyUmbrella v6.14.00 (Mac OS X)
Let us know if you have any further questions in the comments section.
The post NotCom Updates TinyUmbrella To Version 6.14.00 To Support Saving iOS 6.1.4 SHSH Blobs appeared first on iJailbreak.com | Jailbreak | iOS | Apple | Android | Google | Microsoft.