TechGreatest
Nokia, HTC, Motorola And Others Throw Dirt On Apple's iPhone 5s And iPhone 5c
This was bound to happen! As soon as Apple announced the iPhone 5s and iPhone 5c, companies such as Nokia, HTC, Motorola etc. took to Twitter to show Apple up. There is competition and these companies certainly don't want Apple to have all of the attention, especially now that it has two new iPhones on the market.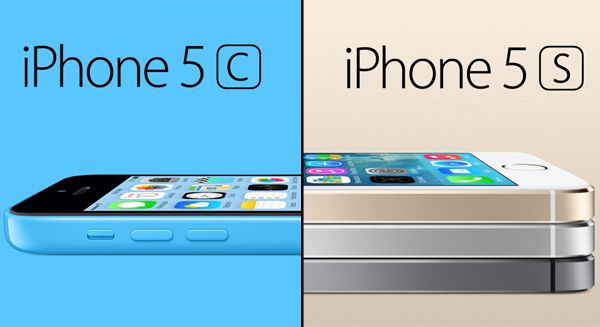 First off, Nokia UK posted this on Twitter following the iPhone 5c announcement, notice how the colors very closely resemble Nokia's Lumia range. It was the Nokia Lumia phones that popularized the use of bright colors on smartphones, now Apple has done the same with the iPhone 5c.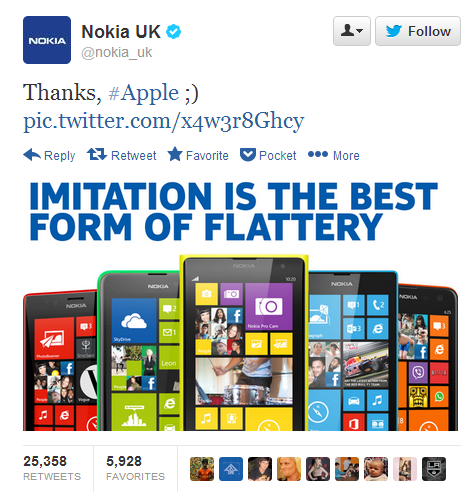 Then came this tweet that stated how 'Real Gangsters don't use gold phones', poking fun at the Gold colored iPhone 5s. The tweet also included a picture of the infamous Heisenberg from the popular tv show 'Breaking Bad'.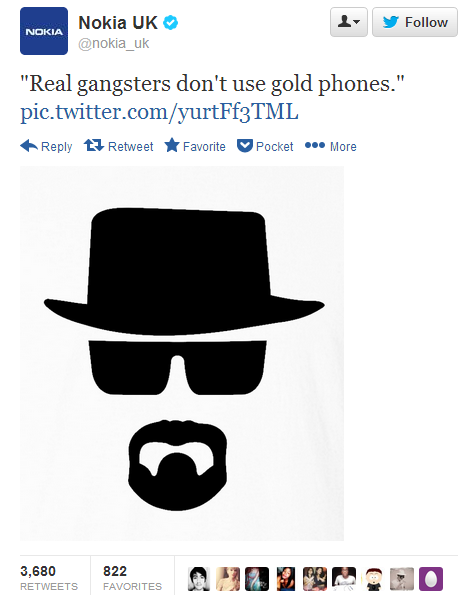 I thought the second tweet from Nokia UK involving the Gold iPhone 5s was funny. Right?
Next up, HTC thought it'd be funny to state that the aperture size of the iPhone 5s camera is lesser than the one found on their HTC One.
2>1.5. Basic math. Innovation at its finest.

— HTC USA (@HTCUSA) September 10, 2013
HTC also asked its followers to tell their friends that they should change their iPhones for HTC Ones. Not a very smart move, rather something that was done in a hurry.
It's time to upgrade to actual change. Help your friends trade in their iPhone toward an #HTCOne. http://t.co/ZbPqDgnATw

— HTC USA (@HTCUSA) September 10, 2013
Motorola also took a jab at Apple and posted a link to a video for the Moto X titled Touchless Control. The tweet has since been removed, but we've got a screenshot for you below: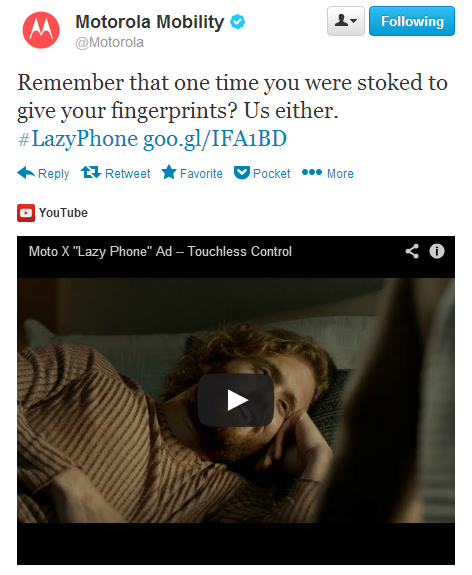 The official Twitter account for Windows Phone also pointed out how the camera on the Lumia 1020 is light years better than the one on the iPhone 5s. And then there were more. Check them all out below:
5 things Apple didn't announce today http://t.co/1X8WYrGm2H It's #timetoswitch to the #WindowsPhone Lumia 1020 w/ 41 MP & reinvented zoom.

— Windows Phone (@windowsphone) September 10, 2013
Screen sizes, speed, and stunning snapshots. Those are our 5 S's. See why it's #timetoswitch to #WindowsPhone http://t.co/bMMiS3mv7S

— Windows Phone (@windowsphone) September 10, 2013
8 megapixels is still just 8 megapixels. See what you can do with 41: http://t.co/4ks5d7FreB #timetoswitch to #WindowsPhone

— Windows Phone (@windowsphone) September 10, 2013
Even the restaurant chain Denny's poked fun at Apple's use of the lowercase 's' in iPhone 5s and posted this photo on Twitter. Quite funny I must say.
 It looks like a lot of companies were unhappy/jealous with Apple's announcement yesterday. Who made the best troll according to you? 
The post Nokia, HTC, Motorola And Others Throw Dirt On Apple's iPhone 5s And iPhone 5c appeared first on iJailbreak | Unconventional Jailbreak And iOS News.