TechGreatest
New Microsoft TV Ad Uses Siri To Throw Dirt On The Apple iPad [UPDATED]
There's a lot of competition going on in the tablet world. The Apple iPad leads the market, whereas Android and Windows 8 tablets are trying to get a piece of the pie. Microsoft's Surface tablet isn't doing very well, but it does some  areas that outshine the iPad. The company has released a new TV ad that uses the voice of Siri and an Apple iPad to show how an Asus tablet running Windows 8 can do more things than the iPad.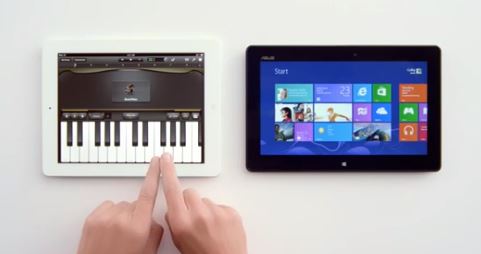 Microsoft has used the voice of Siri to mock how the iPad can't do multiple things at the same time. This isn't the first time Microsoft has used an Apple product in their commercial, but it's definitely the first time they're bashing one. Microsoft says with the Asus Tablet you can use the whole Office Suite, run multiple apps side by side and that's it. Apple had quite some success with their 'I'm a Mac' commercials, so I guess Microsoft has finally decided to get even.
This new Microsoft commercial is titled 'Windows 8: Less Talking, More Doing' and uses similar tactics as the Samsung Galaxy videos. It's kind of funny too, check it out below.
It is true that the iPad can do only one thing at a time, but the sales numbers show that people prefer doing one thing at a time on a tablet. Apple's iPad has a tremendous lead over all of the Windows 8 tablets put together and it's going to stay that way for quite some time. What do you think of this new Microsoft ad?
Update #1: It looks like Microsoft is going to really start pushing its Windows 8 tablet versus iPad commercials as they have just aired another one that you can watch below.
The post New Microsoft TV Ad Uses Siri To Throw Dirt On The Apple iPad [UPDATED] appeared first on iJailbreak.com | Jailbreak | iOS | Apple | Android | Google | Microsoft.