TechGreatest
New Apple TV Update Brings New Apps That Include Vevo, Weather Channel, Disney And Smithsonian
Apple has released a new update for the Apple TV today that actually brings about a ton of new applications including Vevo, The Weather Channel, Smithsonian Channel and two Disney apps: Disney Channel and Disney XD.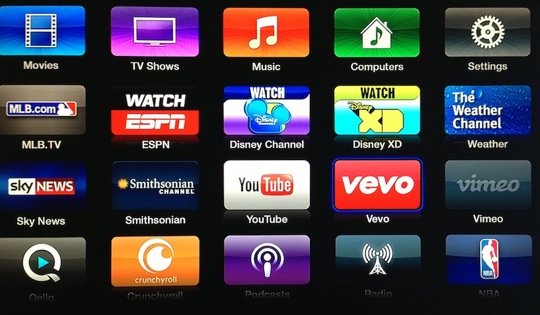 The music streaming service Vevo with its library of 75,000 HD music videos landing on the Apple TV doesn't come as much of a surprise because we have been hearing chatter about this for some time now. Unfortunately Vevo won't be available in all countries though, according to a press release it will only be available in U.S., Canada, Australia, New Zealand, the U.K., Brazil, France, Ireland, Italy, Spain, The Netherlands, and Poland.
Apple TV users are sure to recognize the intuitive and efficient design. VEVO viewers are able to quickly browse videos by featured artists including all of the latest premieres. VEVO includes multiple modes of discovery – you can watch on-demand videos from any genre or simply select any video that piques your interest. If you have something particular in mind, perform a search and we will surface what you're looking for right at your fingertips.
The rest of the apps that came to the Apple TV in this new update that include The Weather Channel, Smithsonian Channel, Disney Channel and Disney XD will be limited to the U.S. for now.
You can install the new update on your Apple TV by going into the Software Update section found within system settings. It is definitely a worthwhile update if you don't rely on a Jailbreak.
The post New Apple TV Update Brings New Apps That Include Vevo, Weather Channel, Disney And Smithsonian appeared first on iJailbreak | Unconventional Jailbreak And iOS News.