TechGreatest
Netflix Will Be Rolling Out Profiles To All Netflix Enabled Devices Over The Next Few Days
Have you ever sat down to watch Netflix, but been disappointed to find that all of your suggestions are filled with movies and TV shows you have no interest in because other people have also been watching Netflix on your account?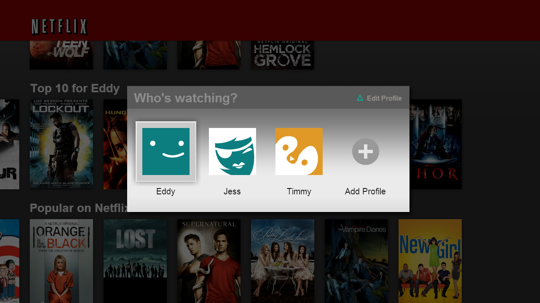 Well if you have you will be glad to know that this issue will soon become a thing of the past. Netflix has announced today that it will be rolling out a new Profiles feature to iPhones, iPads, Apple TVs and every other device you can think of over the next few days.
Today, we are launching a new feature on Netflix that solves that problem and makes it even easier to find something that you will enjoy. You will be able to add additional profiles (up to 5) for each member of your household that uses Netflix. Each person will get personalized suggestions based on what they watch and rate, as well as separate Recently Watched and Instant Queue lists. You can also connect each person to a different Facebook account, to get personalized suggestions from your friends.
Upon its initial release you will only be able to add more profiles from the Netflix website or on a PlayStation 3, but a profile can be selected from any Netflix enabled device.
As mentioned previously, this feature will be rolling out over the next few days so don't be alarmed if you can't access it right away.
The post Netflix Will Be Rolling Out Profiles To All Netflix Enabled Devices Over The Next Few Days appeared first on iJailbreak | Unconventional Jailbreak And iOS News.