TechGreatest
More Leaked iPhone 5S Components Surface, This Time Rear Casing Showcasing Modified Home Button Design
Yup it's another day and you know what that means! It's time for yet another leak.
The website NoWhereElse.fr has obtained an image showcasing what they are called the rear shell of the iPhone 5S that depicts how different the internals of the iPhone 5S will be compared to the iPhone 5. You will notice there is a tweaked metal spacer cushion to support the home button, new screw placements and of course a new camera module.
A comparison of both the iPhone 5 rear casing and alleged iPhone 5S casing can be found below.
Starting with the home button, unfortunately it is impossible to tell with just the rear casing whether or not the iPhone 5S will indeed feature a convex home button with fingerprint scanner just by looking at the skeleton. As for the screw placements, they are consistent with previous leaks and the camera module looks different enough that it could support dual-LED flash.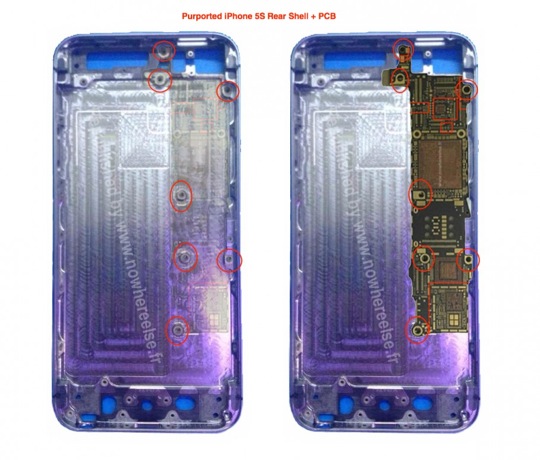 Of course there is no way to tell this is legitimate and not just a cheap Chinese knockoff, but NoWhereElse.fr has been known to be a reliable source when it comes to component leaks.
We are only about 4 weeks away now from the date of Apple's iPhone media event, so we will see soon enough whether or not all of these rumors were legitimate or not.
The post More Leaked iPhone 5S Components Surface, This Time Rear Casing Showcasing Modified Home Button Design appeared first on iJailbreak | Unconventional Jailbreak And iOS News.