TechGreatest
More Google Now Options Available For Mobile And Desktop
According to Google, some of Now's features will soon be available on the desktop and mobile app – a promise the company made back in May at the I/O event.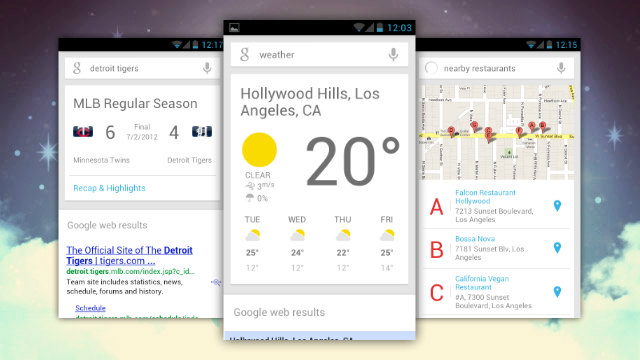 Now you will be able to check travel information, calendar events and reservations stored in some Google services like Gmail, Google+ and Calendar. All your information will be used to provide an answer to your written or spoken questions.
Google explains the type of queries you can make in its blog post:
Flights: Ask Google "Is my flight on time?" to get info on your upcoming flights and live status on your current flights.
Reservations: Ask for "my reservations" to see your dining plans or "my hotel" to get your hotel name and address. With one tap, you can get driving or public transit directions straight there, saving you lots of steps.
Purchases: Ask for "my purchases," and you'll get the status of your current orders, so you know whether your mom's birthday present will arrive on time.
Plans: Ask Google "What are my plans for tomorrow?" to see a summary of upcoming flights, hotels, restaurant reservations and events—very useful when you're traveling.
Photos: Say "Show me my photos from Thailand" to see the photos you uploaded to Google+. You can also ask for "my photos of sunsets" if you want to show off the shots you've taken over the year; Google will try to automatically recognize the type of photo you're asking for.
Information will be encrypted after you sign in with your Gmail account and you can turn Now off by pressing on the globe button at the top of the results section. For more information, check the official post here.
The post More Google Now Options Available For Mobile And Desktop appeared first on iJailbreak | Unconventional Jailbreak And iOS News.