TechGreatest
Microsoft Starts An iPad Trade-In Program For A $200 Credit Towards Surface
In an attempt to further take away marketshare from Apple, Microsoft has started a new promotion where it will offer you a gift card if you trade in your iPad for a Surface RT or Surface Pro.
It was stated on marketing material that Microsoft would be willing to give you a minimum $200 gift card to put towards a Surface or any other cool product at the Microsoft Store for trading in your gently used iPad 2, 3 or 4.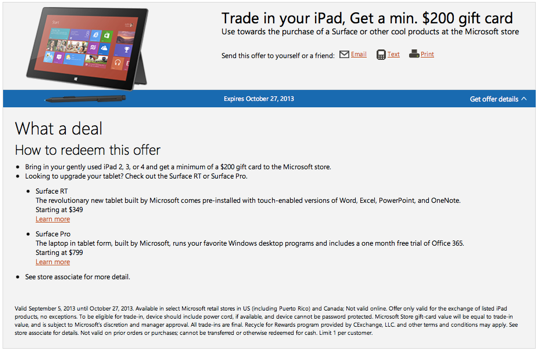 The Redmond company has been promoting this promotion through email mostly and is limited to Microsoft retail stores in the US and Canada.
How the trade-in process works is a Microsoft employee will inspect your iPad, determine its trade-in value and then give you credit on a Microsoft Store gift card. All trade-ins are of course final and subject to Microsoft's discretion and manager approval.
It is also worth mentioning that Microsoft said "To be eligible for trade-in, device should include power cord, if available, and device cannot be password protected." Furthermore the trade-in is limited to one device per customer and expires on October 27th, 2013.
Of course why anyone would want to trade an iPad for a Surface is beyond me, but if for some reason the Surface appeals to you at least this is now an option.
The post Microsoft Starts An iPad Trade-In Program For A $200 Credit Towards Surface appeared first on iJailbreak | Unconventional Jailbreak And iOS News.