TechGreatest
iPhone Touchscreen Is 2.5x Faster Than Android Devices
Despite the fact that Android smartphones seem to be getting larger and larger displays, this doesn't mean that they are getting better. According to VentureBeat the iPhone's touchscreen is actually 2.5 times faster at responding to touches than Google Android devices.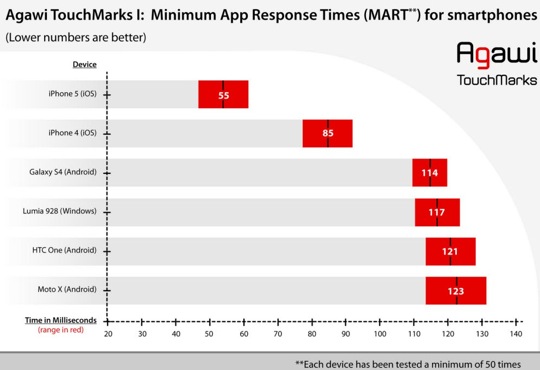 The testing which was done by a game and app streaming firm Agawi found that "the iPhone 5 responded to touches at an average time of 55 milliseconds, compared to 85 milliseconds for the iPhone 4. The closest Android device was the Samsung Galaxy S4 at 114 milliseconds."
This is pretty unbelievable to think that even the iPhone 4 can beat smartphones like the Galaxy S4 which was released only months ago. Especially considering that touchscreen latency is as important to users as display quality.
Rohan Relan, the cofounder and CEO of Agawi further elaborated "Smartphones with touchscreens that have lower MART scores feel snappier. This is probably why, to many users, the iPhone keyboard feels more responsive than an Android phone keyboard."
The post iPhone Touchscreen Is 2.5x Faster Than Android Devices appeared first on iJailbreak | Unconventional Jailbreak And iOS News.