TechGreatest
iPad 5 And iPad Mini 2 To Feature A7X Chips And New Lower-Cost A6 iPad Mini To Follow In 2014
If the often times accurate KGI Securities analyst Ming-Chi Kuo is to be believed both the iPad Mini 2 and iPad 5, which we previously reported will be the same thickness, will feature a new A7X chip. If this ends up indeed being the case it will be a huge upgrade for the current generation iPad Mini which is still running the A5 chip.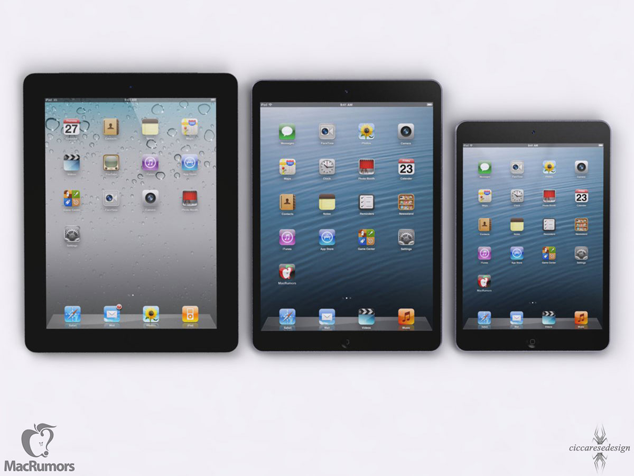 Considering that the iPad Mini 2 is expected to feature a Retina Display, however, it will need all the processing power it can get. Kuo actually touched on this subject and stated that Apple was originally going to not include a retina display in the iPad Mini 2, but in order to stay competitive decided to accelerate its development to release it this year instead of in 2014.

This is what Kuo stated in his research note:
Since iPad mini 2 will feature better resolution with retina display, we think its AP will have the same grade as iPad 5 – the A7X.

But we now believe that iPad mini 2 may be pulled in for launching in late 2013. Since other brand vendors are all expected to have a line-up of new high resolution 7-8" tablets to launch over the next 3-6 months, we think iPad mini 2 may lose its opportunity in the market if it is slated for introduction next year.

Despite minimal form factor differentiation and unchanged casing colors, we think the retina display will still boost iPad mini 2's attractiveness. Although the model's availability is small due to production issues, if iPad mini 2 gets an introduction and launch this year, it should be able to impact consumers and freeze their budget for other brand vendors' tablets.
Believe it or not Kuo also stated that Apple is planning to release a lower cost version of the iPad Mini in 2014 that will feature an A6 chip and non-retina display. This would give Apple even more marketshare.
Apple will be holding a media event next Tuesday, but according to Kuo don't expect iPads to be a part of it. Due to manufacturing issues the new iPads likely won't be announced until October or November.
The post iPad 5 And iPad Mini 2 To Feature A7X Chips And New Lower-Cost A6 iPad Mini To Follow In 2014 appeared first on iJailbreak | Unconventional Jailbreak And iOS News.