TechGreatest
iOS 7 Could Be Released To The Public On September 10th
It has been discovered through an email sent out by Nuance, the same company behind Siri, that iOS 7 GA (standing for General Availability) could be launched the same day as the rumored Apple event taking place on September 10th.
If you know anything about iOS release cycles it is that usually Apple released the GM (Golden Master) firmware on the day of the event and then waits about a week until it is available to the general public in its GA form.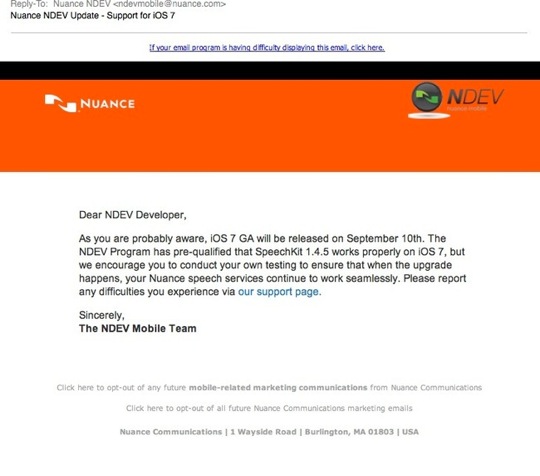 If this email sent out from Nuance to developers in its voice recognition program, picked up by freelance tech writer Owen Williams, is to be believed though Apple could indeed release iOS 7 to the public on September 10th. This would mean that we should see the GM version of iOS 7 released to developers shortly.
It is entirely possible that Nuance is just covering its bases in case iOS 7 is released on September 10th, but what makes things believable is the company is powering Siri and thus is working closely with Apple. Furthermore, Nuance removed the email from their servers after it started circulating online.
The information in this email actually conflicts with what BGR reported awhile back, however, that on September 10th Apple would actually release the GM build, like it has in the past. So it will be interesting to see what the Fruit Company actually ends up doing on September 10th.
The post iOS 7 Could Be Released To The Public On September 10th appeared first on iJailbreak | Unconventional Jailbreak And iOS News.