TechGreatest
iOS 7 Beta 5 Expires On October 6th According To iH8Sn0w
Apple released the iOS 7 Beta 5 firmware this morning and like all beta versions of Apple's iOS firmware, they contain expiry timers.
These expiry timers will force anyone who is running a beta firmware past a certain date to update to the next beta firmware or the latest firmware version available at that time. iH8Sn0w has recently tweeted that the iOS 7 beta 5 build 11A4449a firmware will expire on Sunday, October 6, 2013 at 12am GMT.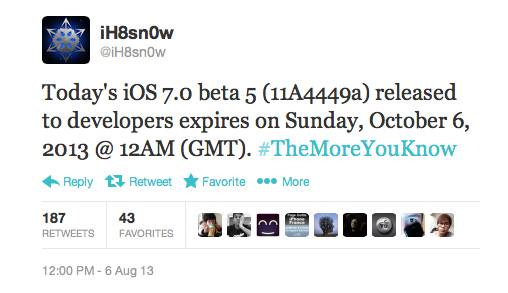 This means if you are running the iOS 7 beta 5 build 11A4449a firmware after October 6, 2013 you will need to update (as mentioned previously).
That is actually quite a ways away and makes you wonder whether or not Apple will release it in September or October. But in the end it is just an expiry timer, so we will just have to wait and see what Apple has up its sleeves.
Please leave any questions you may have in the comments section below.
The post iOS 7 Beta 5 Expires On October 6th According To iH8Sn0w appeared first on iJailbreak | Unconventional Jailbreak And iOS News.