Last week we reported on new iPhoto and Garageband icons that had been found in the iCloud storage management section, which we believed could point to Apple announcing re-designed iWork and iLife apps at its October 22nd keynote.
Now MacRumors has discovered that Apple has revised its built-in apps page for the iPhone 5s which reveals a whole new set of iOS 7-themed icons for 6 iLife and iWork apps offered on iOS. If you check the page now, however, you will not see the icons because Apple has since removed them, but luckily MacRumors was able to take screenshots before this happened.


Interestingly enough the following text was found on GarageBand:
GarageBand is free on the App Store for all iOS 7 compatible devices; additional GarageBand instruments and sounds are available with an in-app purchase. iPhoto, iMovie, Pages, Numbers, and Keynote are free on the App Store for qualifying iOS 7 compatible devices activated on or after September 1, 2013.
Apple is expected to give the new apps some stage presence at its keynote along with the iPad Mini 2, iPad 5, new Retina MacBook Pros, Redesigned Mac Pro and of course OS X Mavericks.
So how do the icons compare to the previous ones?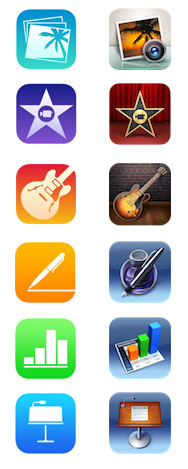 Take a look and let us know your thoughts in the comments section below.
The post Here Are The New iWork And iLife iOS 7 Icons appeared first on iJailbreak | Unconventional Jailbreak And iOS News.