Do you remember mobile phones before the iPhone? They used to be these Nokia-form devices with physical buttons and small screens. Say what you will about the iPhone – that it hasn't changed radically since its introduction, that it feels old, and that other companies have surpassed it in terms of services and features– but it has revolutionized the smartphone industry.
Thanks to the iPhone, most mobile phones include a touchscreen; it gave birth to one of the biggest digital stores in the world – the App Store; and most recently, BlackBerry rethought its marketing strategy and launched the Z10 phone, a device that got rid of the physical keyboard.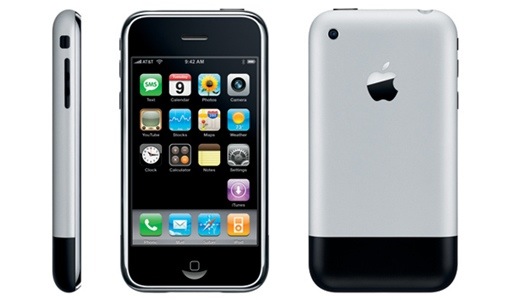 Well, it turns out that today, Apple's beloved mobile phone just turned 6 years old. Back in June 29, 2007, Steve Jobs introduced the first generation iPhone in San Francisco. That same year, Time magazine named it the Invention of the Year in 2007. It was launched as a three-in-one product: a "widescreen iPod with touch controls"; a "revolutionary mobile phone"; and a "breakthrough Internet communicator".  Steve Jobs even changed the way products were launched, with the introduction of the iPhone being considered as the best product presentation ever.
Before its launch, the media referred to the iPhone as the Jesus phone and is now a technological piece of history. Even with Samsung and Google as rivals, to this day, the iPhone remains America's top selling smartphone, one of the bestselling phones worldwide and the top brand in terms of customer satisfaction.
There have been five generations, and who knows what the future may bring. Rumor has it Apple is planning to include a digital fingerprint scanner, an A7 chip and a double LED flash.
So, here's to the future of the best smartphone ever created.
The post Happy Birthday iPhone! The Original iPhone Turns 6 appeared first on iJailbreak.com | Jailbreak | iOS | Apple | Android | Google | Microsoft.