TechGreatest
Google Adds Nutritional Info Cards To Google Now
Google published a post on its official Search blog announcing the release of a new feature that offers nutritional information about food.
The search giant had a similar option that was available through its website, but this time you will be able to find everything you want/need inside a card. This will fit perfectly with its digital assistant Now and will help you make wise decisions when eating a meal or a snack.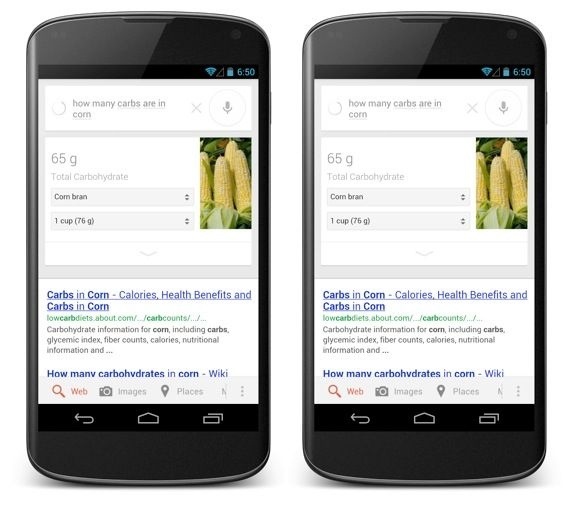 This is how Google says it works:
… starting today you will be able to quickly and easily find extensive nutrition information for over 1,000 fruits, vegetables, meats and meals in search. From the basics of potatoes and carrots to more complex dishes like burritos and chow mein, you can simply ask, "How much protein is in a banana?" or "How many calories are in an avocado?" and get your answer right away. You'll hear the answer to your specific question, see relevant nutrition information under an expansion, and be able to switch to other related foods or serving sizes.
The new card will be available only in the United States – for both iOS and Android – and will be rolling over the next 10 days. Google also specified searches will be for English only but avoided giving any more details related to international availability.
At the moment, Google Now gives you the weather, helps you translate words, shows you the quickest way home, gives you directions and shows you any reservations you may have, amongst other things.
Do you use Google Now? Will you be using the new nutritional card? Let us know in the comment section below.
The post Google Adds Nutritional Info Cards To Google Now appeared first on iJailbreak.com | Jailbreak | iOS | Apple | Android | Google | Microsoft.