TechGreatest
Finer Details About The Galaxy S5 [Only Half Usable Storage And How The Fingerprint Scanner Works]
The Samsung Galaxy S5 has been making head lines left-right-and-center and it is no wonder why. It is indeed an impressive handset with specs that blow other smartphones out of the water and more features than you can shake a stick at. But there are some finer details that one will want to take into account before deciding whether or not to go ahead and upgrade.
The first lies with the storage, or better put the lack of storage due to bloatware. Apple's 16GB iPhone 5s comes with 12.20GB of usable storage which is definitely one of the best software to free storage ratios out there. So what about the Galaxy S5?
Well Android Central have reported that although the Galaxy S5 has 16GB of internal storage, only 7.86GB will actually be free space. That's almost 50% of the total allotment of storage taken up off the bat.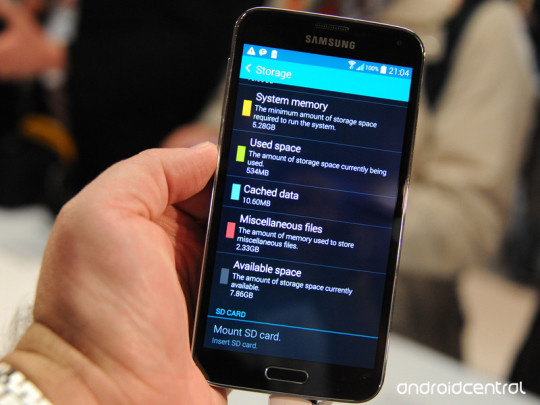 Samsung has yet to comment, but the manufacturer's standard reply would be to back the addition of the microSD card slot for storage expansion. Although this is true it also means the consumer has to fork over more money for extra space.
Moving on to the fingerprint scanner. Unlike the iPhone 5s, the fingerprint scanner of the Galaxy S5 works differently. With the iPhone 5s you simply place your finger on the home button and viola. Where the Galaxy S5 uses a motion scanner that requires you to swipe your finger over the top of the sensor.
Initial testing has concluded that this is a lot less convenient because it requires you to use two hands and was less accurate, but with that said the accuracy part could of been to do with using a demo handset. The Galaxy S5′s biometric scanner supports up to 8 fingerprints, versus the iPhone 5s' 5 and is integrated more heavily into the OS. You can lock apps and even authenticate payments.
The post Finer Details About The Galaxy S5 [Only Half Usable Storage And How The Fingerprint Scanner Works] appeared first on iJailbreak | Unconventional Jailbreak And iOS News.