TechGreatest
Download This Free And Simple App To Optimize Your Mac's Performance [Deals]
If you aren't a computer wiz, keeping your Mac fast and secure requires a bit of knowledge and digging around in settings you might not be familiar with. Bitdefender Mechanic makes it easy for anyone to clean up disk space and improve system performance.
So here's why we love it…
Bitdefender Mechanic is a fresh approach. Designed for new Mac users who don't know how or don't want to dig into system or application settings; it's a basic cleaning app that gives you the essential tools to keep your system safe, maintain privacy, and maintain your Mac's operating speed by freeing upRAM space.
Sure, there are more comprehensive apps that give you greater control over what gets cleaned and when, but they're also not free.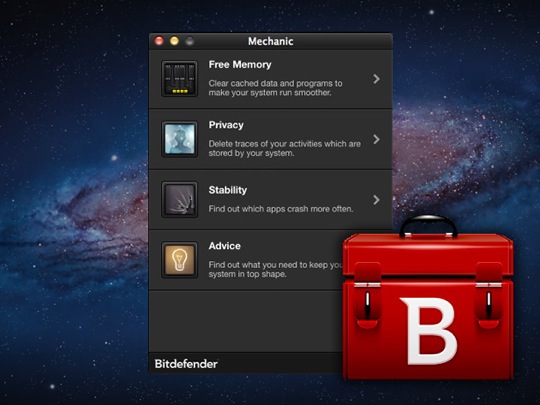 Don't forget to check out some of its top features:
This is what PCMag.com had to say about Bitdefender Mechanic "Mechanic by Bitdefender may not possess the wide range of system-improving features found in the likes of CCleaner, but users who want a very quick system tweak will find it a useful tool. And, hey, it's free! Give it a download and give your Mac a booster shot."
If you are interested in Bitdefender Mechanic you will be glad to know that iJailbreak.com is currently offering it for free through our deals store. Click the button below for more information.

The post Download This Free And Simple App To Optimize Your Mac's Performance [Deals] appeared first on iJailbreak | Unconventional Jailbreak And iOS News.