TechGreatest
Disney Releases Where's My Water? 2 For iOS, Download Now
Swampy the alligator is back in an all new Where's My Water? 2 along with his friends Allie and Cranky. Disney has released a new installment in the Where's My Water series and added plenty of new features to this addictive physics puzzler.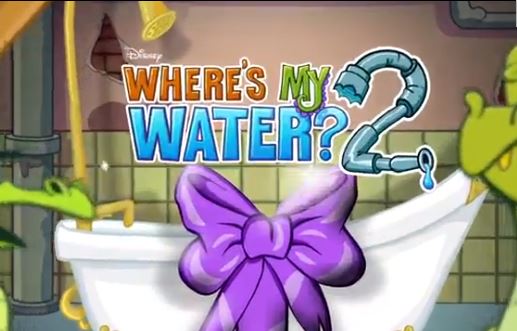 In Where's My Water? 2, there are 3 new locations including the Sewer, the Soap Factory, the Beach. The game also includes over 100 puzzles that you need to complete by digging and guiding the fresh water, purple water and steam. There's also the Mystery Duck, who will help you out through the challenges.
New Challenge Modes let you play your favorite levels in new ways and see how fast you can dig and collect all of the ducks in the new Duck Rush level. The game is still a freemium, which means that you'll have to spend some cash to get boosts such as Vacuum, Dropper and Absorber. Here are some more features that you'll find in the game:
Connect through Facebook and see if you can beat your pals on the adventure!
Experience fun mechanics that are uniquely designed for each character!
Complete achievements and earn special themed duckies such as gladiator-duckie, astronaut-duckie, hula-duckie, and many more!
Stuck on a level? Use hints to help you solve the puzzles!
Sounds fun, doesn't it? Watch the launch trailer for Where's My Water? 2 right below:
Where's My Water? 2 is available in the App Store for free, but yes it's a freemium title. Fans of the original game will certainly like the new stuff in this one. What are you waiting for? Go on, download it now.
Download Where's My Water? 2 for iPhone, iPod Touch and iPad [iTunes Link]
The post Disney Releases Where's My Water? 2 For iOS, Download Now appeared first on iJailbreak | Unconventional Jailbreak And iOS News.