TechGreatest
Developer Behind Tweaks Like Springtomize — Filippo Bigarella — Releases An App Into The App Store Called Balances
Filippo Bigarella has made quite the name for himself in the Jailbreaking community by developing tweaks such as Springtomize, LivelyIcons, and PasswordPilot Pro. Now he is looking to also make a name for himself in the official Apple App Store.
Bigarella has just released an application called Balances that is an extremely simple finance app with a minimalistic interface you are sure to love. Using Balances you can quickly take note of the money you owe to your friend or of the credit they owe you.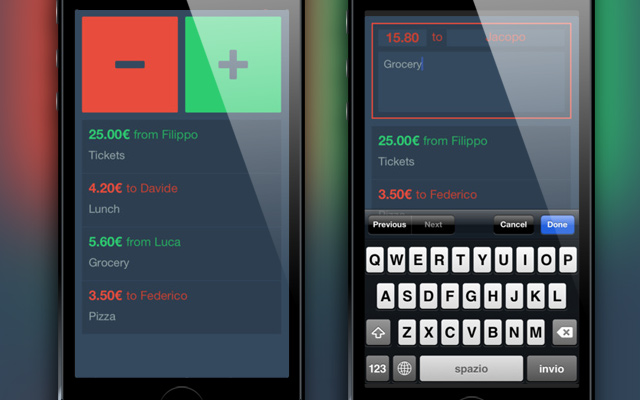 Balances was designed to replace those sticky notes and makes the task of remembering how much money you owe your friend or how much they owe you simple.
Bigarella describes how the application functions below:
You can add debts or credits using the two main buttons: once one of them has been completed, you can swipe on it to the right to mark it as such. Never mind, though: you can always put it back on your list from the "Completed" section, by just swiping it to the left.

For every credit / debt, you can specify the amount of money and the person you have the credit / debt with. Additionally, you may want to add a brief description of every balance. You can also edit those details later by keeping a balance pressed from the main list.
If you are interested in checking out the Balances application you can find it for free in the Apple App Store until this Sunday. After that the app will go back to its regular price of $1.99.
The post Developer Behind Tweaks Like Springtomize — Filippo Bigarella — Releases An App Into The App Store Called Balances appeared first on iJailbreak.com | Jailbreak | iOS | Apple | Android | Google | Microsoft.