TechGreatest
Dev Center Is Now Fully Back Online WIth Memberships Being Extended 1 Month
We told you near the end of July that the Dev Center was back online for the most part, but that there were still some services that were not functioning like Pre-Release Documentation, XCode Automatic Configuration and the Member Center.
Today, however, we are pleased to report that all of the Dev Center services are back online following the now 3 week outage that started in mid-July.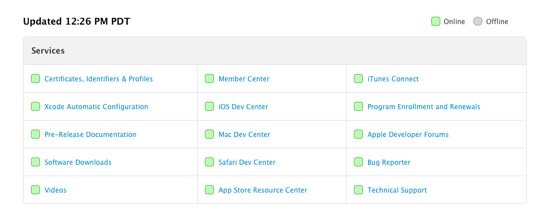 The reason why it took so long for Apple to bring the dev center back to a fully functioning state is because a full overhaul was required of its systems and databases. This was of course to prevent something like this from happening again anytime soon.
You can take a look at the email Apple is sending to developers below:
We are pleased to let you know that all our developer program services are now online. Your patience during this time was sincerely appreciated.

We understand that the downtime was significant and apologize for any issues it may have caused in your app development. To help offset this disruption, we are extending the membership of all developer teams by one month. If you need any further assistance, please contact us.
As a result of all the down time Apple is trying to make it up by adding 1 additional month to all dev center memberships. This means if you membership was going to expire in August it would now expire September instead.
The post Dev Center Is Now Fully Back Online WIth Memberships Being Extended 1 Month appeared first on iJailbreak | Unconventional Jailbreak And iOS News.