TechGreatest
Check Out This Swiss-Designed iPhone Dock & Bluetooth Handset [Deals]
Take calls and stream music – wirelessly – from your cell, tablet, or PC and enjoy rich, dynamic HD sound from high quality stereo speakers. With Swiss voice's ergonomic, retro handset, you get the best of both worlds – the classic feel of a real telephone with the technological capabilities of a Bluetooth headset.
Whether a regular or hands-free conversation, the ePure handset is comfortable to use, and even makes using your phone healthier by directing electromagnetic emissions and radiation from your cell phone away from you. The ergonomic shape of the handset is a perfect match to the human ear, improving the overall sound quality and reducing acoustic leakage.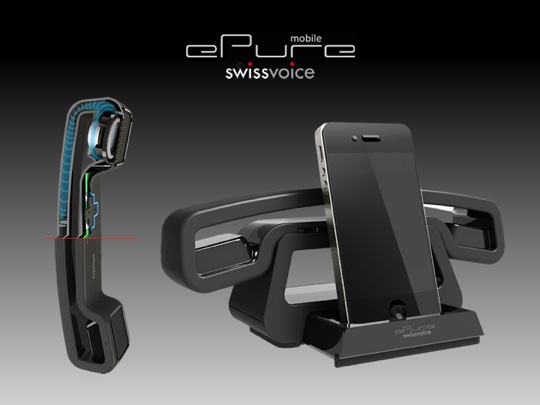 With an integrated retractable dock station, you can charge your iPhone while you wirelessly stream music, and can even control the sound level and other functions (play/pause/next/previous) from the handset.
So why do we love it?
Ideal for the office, home, or traveling, the ePure Bluetooth handset is a perfect iPhone companion. Making calls for business or pleasure is a breeze, and it can even be used to chat via Skype®, Google Talk™, FaceTime and any VoIP service.
Using the latest wideband audio technology, your conversations will sound richer and more natural than ever before. In true Swiss fashion, the ePure was built from the ground up using HD microphones, receivers, speakers, codecs, and an HD speech processing algorithm to deliver a top notch auditory experience.
If you are interested in learning more about the ePure handset then click the button shown below. For a limited time you can get it for only $59.99, which is 60% off its retail price.

The post Check Out This Swiss-Designed iPhone Dock & Bluetooth Handset [Deals] appeared first on iJailbreak | Unconventional Jailbreak And iOS News.