TechGreatest
Check Out This New iWatch Concept With A Flexible Display And Slap Bracelet Design
We have seen some good looking iWatch concepts in the past, but Federico Ciccarese of Ciccarese Design has recently took to designing a brand new one that is worth your attention. This particular concept is definitely "out there" in terms of its design, but it is neat nonetheless.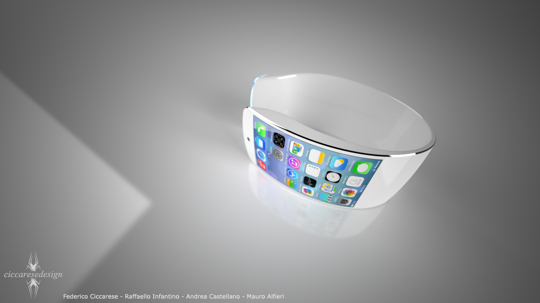 The smartwatch runs iOS 7 and has a flexible display. It almost resembles a slap bracelet when you take a good look at it, which was a popular accessory in the 90′s.
Here's our version of iWatch and the image you see we wanted to realize style and functions, in typical Apple design that so fascinates us. In our shell from the futuristic design, we enclosed ideally, the latest version of the operating system for mobile devices iOS7. We have also started prototyping and we have already made the first two copies, one white and the other black, to verify the ergonomics as well as the attractiveness of the object when worn.
I am not a fan of the design Ciccarese has brought to the table, but it is without a doubt a unique idea. Ciccarese always comes up with some unique ideas for future Apple products and has been responsible for a ton of different concepts from the iPad 5 to the iPhone 6.
Check out the video reel for the concept below and share your thoughts in the comments.
The post Check Out This New iWatch Concept With A Flexible Display And Slap Bracelet Design appeared first on iJailbreak | Unconventional Jailbreak And iOS News.