TechGreatest
Check Out The World's First Wearable, Programmable Sensing Computer [Deals]
It is without a doubt that the Swiss Army knife is one of the best creations ever. You have so many tools at your disposal with it that it makes a lot of sense to have one handy. Now iJailbreak Deals is offering you what some are calling a digital Swiss Army knife of sorts in the form of Sensordrone.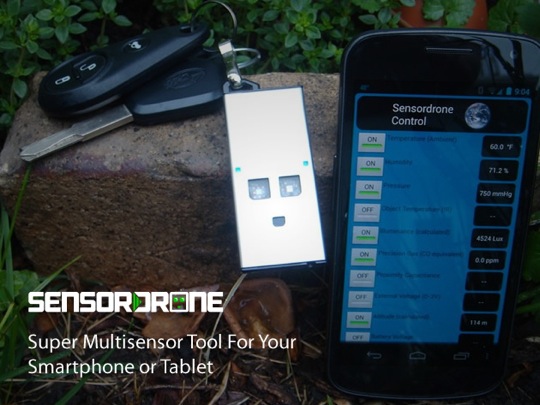 Packing 11 sensors into one tiny package, Sensordrone turns your Smartphone into a carbon monoxide detector, non-contact thermometer, gas leak detector, lux meter, weather station, diagnostic tool, breath analyzer, and more!
Take a look at some of the sensors packed into Sensordrone.
Precision Gas Sensor – Test air quality, carbon monoxide levels, and blood alcohol content
Reducing Gas Sensor – Sense methane, propane, and natural gas leaks
Oxidizing Gas Sensor – Ozone sensing and chlorine leaks
Non-Contact Thermometer – Check food temperature, engine diagnostics, and whatever else you point it at
Humidity Sensor – Check heat index, but also great for finding optimum food storage conditions, even preventing mold from growing in your home
Temperature Sensor – Measure ambient temperature
Light Sensor – For checking light intensity, sunlight monitoring, or even late night refrigerator use
Color Sensors – Use as a color meter, color matcher/analyzer, even pattern recognition
Pressure Sensor – Works as a barometer or altimeter, and you can connect to a pressure cuff to act as a blood pressure monitor
Proximity Sensor – Use it as a stud finder or liquid level monitor
Expansion Connector – Digital (TTL UART & i2C) and analog (0-3V) interface for connecting other sensors like EKGs, Thermal Printers, and more
Crazy, no?
Sensordrone has garnered the attention from numerous media outlets like Android Police, Fast Company, Mashable and Engadget that said "…slightly Star Trek, with the device connecting across Bluetooth to share a wealth of data on what's going on around you."
You can get your own digital swiss army knife for only $149, which is 25% off its retail price. Click the button below for more information on this futuristic device.

The post Check Out The World's First Wearable, Programmable Sensing Computer [Deals] appeared first on iJailbreak | Unconventional Jailbreak And iOS News.