TechGreatest
Check Out The World's First Robotic Tablet Stand Called Kubi [Deals]
I know what you are probably thinking, "A robotic tablet stand, what's next? Flying cars!"
Well, I don't know about flying cars, but right now you can actually get your hands on the world's first robotic tablet stand called Kubi that will be shipping to the public in late July to residents of the United States.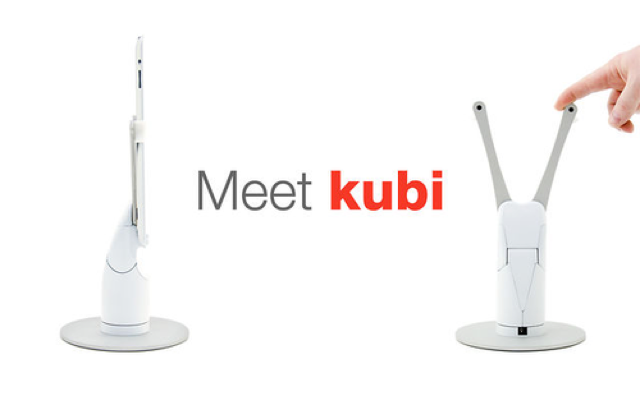 KUBI is a cloud controlled robotic desktop stand that enables you to look around and interact over video calls. An affordable and practical telepresence solution, KUBI is compatible with most consumer and enterprise video clients, many of which are creatively integrating KUBIs cloud controls into their video feeds.
It's compatible with almost any Bluetooth LE enabled tablet from an iPad mini to a Microsoft Surface in portrait or landscape orientation and experience how natural video chatting can be when you control your own video feed. Look around and follow the action! Get in the conversation!
Introducing such a revolutionary product isn't easy to do with words so check out the video of Kubi in action below.
So, why should you get Kubi?
It's pretty simple…we're tech geeks and this innovative creation screams a quality design and an amazing user experience — two facets of any product that we absolutely love. Not only does it allow you to connect with anyone via video conferencing but it also gives you the freedom to look around the room in real-time which truly makes using Kubi a one-of-a-kind experience. Not to forget, it practically works with any tablet which doesn't hurt its appeal either.
If you are interested in Kubi we suggest checking out the official Kubi page on the iJailbreak Deals store. It isn't the cheapest tablet stand in existence, but I guarantee it will blow the minds of anyone you show it to.

The post Check Out The World's First Robotic Tablet Stand Called Kubi [Deals] appeared first on iJailbreak.com | Jailbreak | iOS | Apple | Android | Google | Microsoft.