TechGreatest
Apple Will Be Opening Up Its USB Power Plug Tradeback Program To Other Countries Besides China And The US
Last week we reported that Apple would soon be starting a new takeback program where it would be offering to take in 3rd party chargers and give you an official one for a discounted price of $10. This whole program stems from the fact that there has been deaths in China due to people being electrocuted by malfunctioning 3rd party chargers.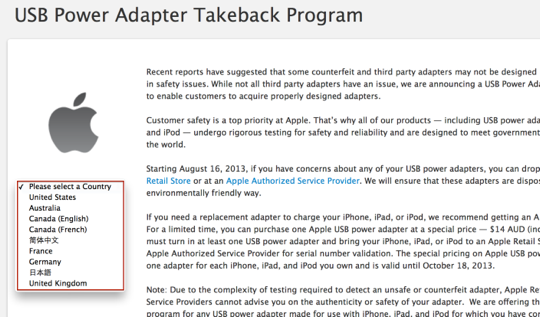 Now 9To5Mac is reporting that the program has already began in China and will officially begin in the United States on August 16th. Apple didn't actually state that it would be opening the program to any other locations besides China and the US, but it has updated its support page for the USB trade-in-program to note a few other supported regions and the corresponding discount pricing:
Australia ($14 AUD)
Canada ($11 CAD)
France (10 €)
Germany (10 €)
Japan (¥1,000)
United Kingdom (10 €)
Just like the United States the program will start on the 16th in these countries and will end on October 18th.
Will you be taking advantage of the tradeback program? Let us know in the comments section below.
The post Apple Will Be Opening Up Its USB Power Plug Tradeback Program To Other Countries Besides China And The US appeared first on iJailbreak | Unconventional Jailbreak And iOS News.