TechGreatest
Apple Releases New 16GB iPod Touch Without iSight Camera, Priced At $229
Out of the blue, Apple has released a new model of its 5th generation iPod Touch, which is a little cheaper than the present model and lacks a rear iSight camera. Yes, you heard that right. If you head to the online Apple Store right now, you'll see a brand new 5th generation iPod Touch with 16GB of storage, an A5 processor and no rear camera.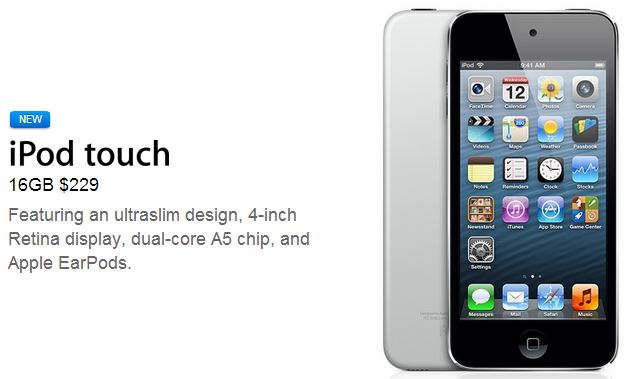 Apple has priced this new model at $229, because as you probably guessed it lacks the rear iSight camera. When Apple refreshed the iPod Touch with the new design, only 32GB and 64GB variants were released. The older iPod Touch 4th generation is no longer available in the online store. It has been replaced by the new 16GB version without the rear camera. Also missing is the "loop" lanyard hook. Apart from that, the new version has the same A5 chip, FaceTime HD camera in the front, 4-inch Retina display and carries the new slim design.
We have no idea why Apple would release this model, because if you pay a little more, you could get the 32GB iPod Touch 5th gen with a rear camera. Anyways, if you're interested in picking up this camera-less iPod Touch, head over to the online Apple Store. It's available in both black and silver for $229, comes with 16GB of storage and will be shipped in 24 hours. You could also go to your nearest Apple retail store and buy one.
So, would you buy one?
The post Apple Releases New 16GB iPod Touch Without iSight Camera, Priced At $229 appeared first on iJailbreak.com | Jailbreak | iOS | Apple | Android | Google | Microsoft.