TechGreatest
Apple Officially Confirms The iPhone Trade-In Program Will Be Launching Today In The U.S.
Apple's iPhone trade-in program was previously detailed and said to be launching near the end of this month and now Apple has officially confirmed what they are calling the iPhone Reuse and Recycling Program. It will be limited to the United States for now and is powered in-part by BrightStar.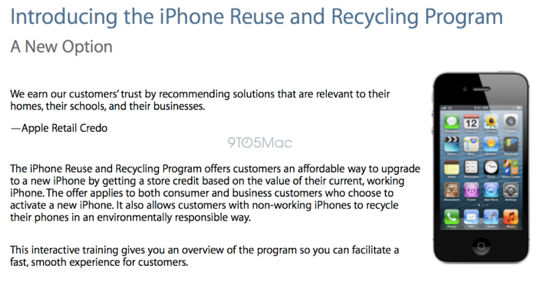 This program will be aimed at increasing iPhone sales at Apple's own retail stores which currently only comprises of about 20% of all iPhones sold.
CNBC were the first to confirm the official launch of the program with a tweet.
BREAKING: Apple tells @jonfortt that $AAPL's trade-in program to roll out nationwide today; customer must leave store with new contract.

— CNBC (@CNBC) August 30, 2013
And this is what an Apple spokeswomen had to say:
In addition to helping support the environment, customers will be able to receive a credit for their returned phone that they can use toward the purchase of a new iPhone.
9To5Mac who were originally the ones to report on how the program work stated "The trade-in process can be conducted on the store floor, or at the Genius Bar. Apple will not be heavily promoting the program with marketing signage (as of now), but Apple Store employees have been instructed to recommend the program to applicable customers."
Right now the trade-in value that you will get for your used iPhone 3G, 3GS, 4, 4S and 5 is slightly lower than the competition. It is being rumored that you will get on average about $250 for a 16GB iPhone 5 in good condition and $130 for a GSM 8GB iPhone 4.
It is worth noting that when you trade in an iPhone, the credit MUST be used towards the purchase of a new iPhone and cannot be put towards another Apple product.
The post Apple Officially Confirms The iPhone Trade-In Program Will Be Launching Today In The U.S. appeared first on iJailbreak | Unconventional Jailbreak And iOS News.