TechGreatest
Apple Knows That Consumers Want A Larger, Cheaper iPhone
Apple and Samsung are at it again! If you remember, Apple was awarded a near $1 billion in damages by Samsung in a previous lawsuit. Now, there's a new one going on, where Apple is demanding $2 billion from Samsung for infringing on its patents and ideas.
During this court hearing, Apple was asked to present some internal documents. In these documents, a lot of things have been revealed, one of them being how Apple believes that consumers want an iPhone with a larger display and a slightly lesser price. According to Apple's internal slides, they know that the iPhone sales are slowing down, year-over-year.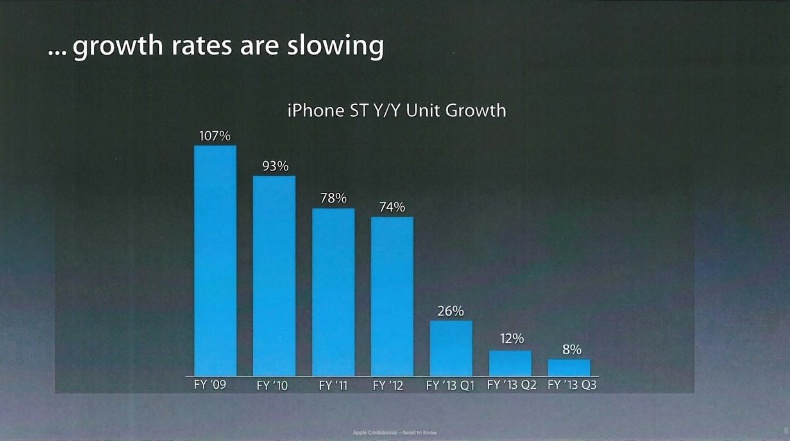 These slides are from an internal meeting that was held in April 2013, to discuss Apple's plan for 2014. As you can see, the iPhone growth rate has come down to a single digit in Q3 2013. This gradual slow-down in growth is because of the increasing demand for less expensive and larger screen smartphones from consumers.
This is true. Manufactures such as Samsung, HTC etc. have been providing consumers with larger screen smartphones for quite sometime, while Apple has stuck to its 4-inch strategy. While they have not had any losses so far, it is clear that Apple users want an iPhone with a larger than 4-inch display. Another reason for the slow growth is that Android is doing pretty good, with improving their ecosystems and hardware support. The best smartphone in the world is currently not an iPhone.
So you see, Apple knows what we consumers want and are most likely working on an iPhone with a larger 4.7-inch display. Rumors, reports and leaks suggest that Apple is working on two iPhone models, one with a 4.7-inch display and the other with a 5.5-inch display. They are rumored to be announced later this year.
What do you make of these slides? Isn't it true that consumers want larger screen and less expensive smartphones?
[via Recode]
The post Apple Knows That Consumers Want A Larger, Cheaper iPhone appeared first on iJailbreak | Unconventional Jailbreak And iOS News.