TechGreatest
Apple Increases Cellular App Download Cap To 100MB
iOS 7 is full of surprises, is it not?
Just take what AppleInsider discovered today for example. You can actually download applications up to 100MB over a cellular data connection now, which previous was 50MB and believe it or not only 10MB with the iPhone 3G.
This is great for people who have big data plans, but not so good for people who have limited data plans. As if you accidentally hit the update all button you could easily go through all of your allocated data for the month or at least burn through a big chunk of it.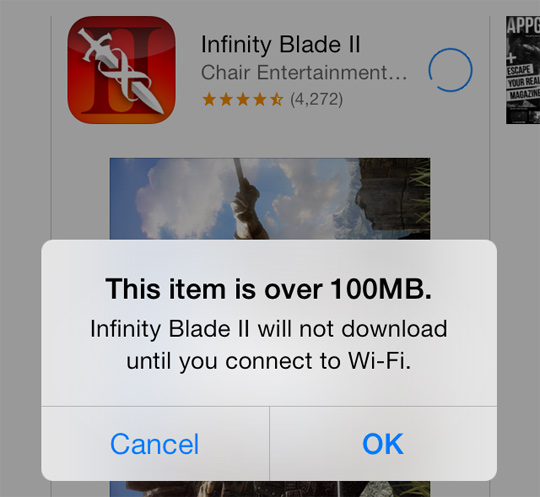 What would be great is if instead of raising this cap Apple actually allowed users to set it. I mean a little bit more control over something as simple as the App Store download cap over a cellular connection might be nice, no?
One theory for raising this download limit is because app binaries will become bigger due to the combination of both 32-bit and 64-bit variants, but I would be interested in hearing your thoughts in the comments section below.
The post Apple Increases Cellular App Download Cap To 100MB appeared first on iJailbreak | Unconventional Jailbreak And iOS News.