TechGreatest
Apple Could Start Performing In-House Repairs On iOS Devices Starting In June
It looks like things could be changing shortly on how Apple deals with iPhone and iPad repairs. Right now if you were to take advantage of your iOS device's warranty it would be shipped back to Apple and if deemed faulty you would have a brand new refurbished model sent back to you.
If a recent email obtained by AppleInsider sent out to Brazilian Apple Authorized Service Providers (AASPs) earlier this month is to be believed, the fruit company could actually be performing repairs in-house in most cases instead of  replacing damaged models with a refurbished unit.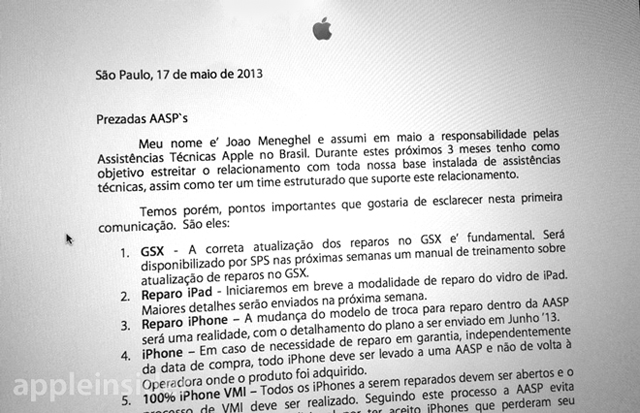 AppleInsider does caution that all they have obtained is a photograph of a computer screen showing the email and they can't vouch for the authenticity, but "the text is in line with a previous rumor saying Apple would be making dramatic changes to its repair services later this year."
If the email is to be believed it was allegedly written by John Meneghel, who claims to be Apple's Technical Assistance manager in Brazil. He stated that new procedures regarding iPad cover glass replacement and iPhone will be coming into play shortly.
You can take a look at the full letter below:
My name is John Meneghel, and in May I assumed responsibility for Apple Technical Assistance in Brazil. Over the next three months I aim to strengthen the relationship with our entire installed base of technicians, as well as having a structured team that supports this relationship.

There are, however, important points that I would like to clarify with this first communication. They are:

1. GSX – The correct upgrade from basic repairs and GSX. Will be provided by SPS in coming weeks in a training manual updating of repairs GSX.

2. iPad Repair – We will soon begin to repair iPad glass. Further details will be sent next week.

3. iPhone Repair – The Changing Patterns of exchange for repair within AASP will be a reality, with details of the plan to be sent in June '13.

4. iPhone – In case of repair under warranty given independently of purchase, all iPhones should led to an AASP and not back to one carrier was bought.

5. iPhone VMI – All the iPhones to be repaired must be open and…
If all of this pans out we could start seeing it being implemented as early as June, which could point to Apple announcing the change to AppleCare at the WWDC 2013.
The post Apple Could Start Performing In-House Repairs On iOS Devices Starting In June appeared first on iJailbreak.com | Jailbreak | iOS | Apple | Android | Google | Microsoft.