TechGreatest
Apple Announces The New 13-Inch And 15-Inch MacBook Pro
After announcing that OS X Mavericks would be free and available to download today it was time to turn attention to the MacBook.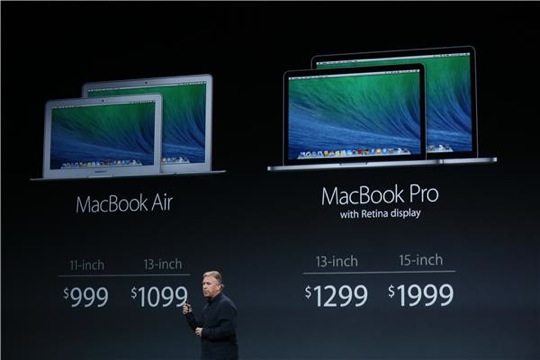 It all started off talking about the 13-inch Retina MacBook Pro that will now be under 3.5 pounds and .71 inches thin. There is 802.11ac wireless networking, Iris Graphics and of course an Intel Haswell processor.
So what about battery life?
It will get 9 hours, enough to watch the entire Dark Knight trilogy.
The 13-inch MacBook used to retail for $1499, but now it starts at $1299 and will begin shipping today.
The 15-inch model will also be lighter and thinner. It will feature an Intel Crystalwell chip, Iris Pro graphics with a GeForce GT 750M option, 802.11ac WiFi and it features up to 8 hours of battery life.
Just like the 13-inch MacBook Pro it also includes PCIe based flash, Thunderbolt 2 and runs OS X 10 Mavericks.
It starts at only $1999, which is $200 savings from the previous model. It also ships today.
The post Apple Announces The New 13-Inch And 15-Inch MacBook Pro appeared first on iJailbreak | Unconventional Jailbreak And iOS News.