Adobe has released an iPad version of its professional photo editing software Lightroom, letting users edit photos on the move. Lightroom mobile brings all (well most) of the powerful photo editing tools of the desktop version to your iPad. You will, however, need to have Lightroom 5 on your Mac or PC to be able to use this app.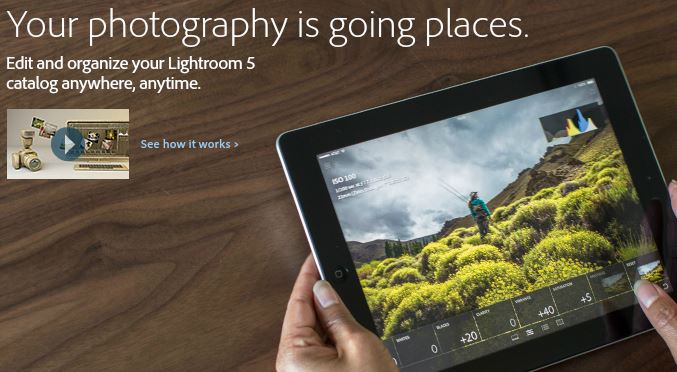 Lightroom mobile basically lets you edit, organize and share photos and syncs them with the desktop app from anywhere and anytime you want. It's easy to use as it features similar tools found on Lightroom 5, adapted for the iPad. You can edit smartphone photos and even RAW images from DSLR cameras.
The app lets you download smart previews of photos stored on your desktop and syncs it automatically while you're editing. You can also save the photos to your Camera Roll and share them via email or on social networks. It also has a built-in slideshow feature that lets you quickly create presentations.
Keep in mind though, the mobile version is nowhere as good as the desktop client, it's just for a quick edit or two while you're on the move. Check out the introduction video below:
Apart from having Lightroom 5 and an Adobe account, you'll also need to subscribe to Adobe's Creative Cloud plan. The Lightroom mobile only works on iPad 2 or later, but an iPhone version will also be out soon.
Download Adobe Lightroom mobile for iPad [iTunes link]
The post Adobe Lightroom Mobile Now Available For iPad appeared first on iJailbreak | Unconventional Jailbreak And iOS News.