TechGreatest
According To Leak Schematics The iPad 5 Could Be Thinner Than The iPhone 5s
We previously reported that the iPad Mini 2 could receive Touch ID and the iPhone 5s' 64-bit architecture and now according to a new report from AppleInsider we have some more information regarding the iPad 5.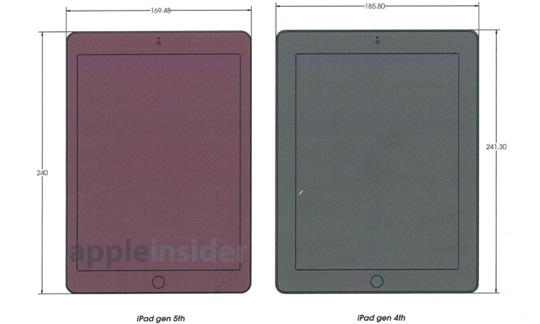 Not even so much in terms of tech specs, but rather the dimensions of the tablet. According to leaked schematics that iPad 5 will indeed feature much smaller side bezels like that of the iPad Mini. This was of course already known, but not the actual dimensions. According to the image shown below  the iPad 5 will measure exactly 169.48 millimeters wide, shaving more than 15 millimeters off the width of the 4th generation iPad.
The iPad 5 is also expected to see a slight height reduction from 241.3 millimeters in the current model to 240 millimeters in the alleged next-generation version. It gets better though, the thickness is going to be reduced as well from 9.55 millimeters to 7.5 millimeters. This is actually a tad thinner than the iPhone 5s, which is at 7.6mm.
AppleInsider also stated that " the new iPad is expected to be lighter than its predecessor, helping to make the 9.7-inch tablet more portable. But the main elements of the device, including the home button, forward-facing FaceTime camera, lock button, and the location of the headphone jack and microphone on top of the device are all expected to stay largely the same."
If rumor has it the iPad 5 will also of course feature an A7 chip along with Touch ID. We will soon find out, however, as Apple will be hosting an iPad event sometime in October.
The post According To Leak Schematics The iPad 5 Could Be Thinner Than The iPhone 5s appeared first on iJailbreak | Unconventional Jailbreak And iOS News.