TechGreatest
A Comprehensive Look At Apple's Fourth Quarter Financials
Apple posted its Q4 2013 earnings results yesterday and things are looking pretty good. The Fruit Company was able to beat analyst predictions for revenue and profit, and went on to sell 33.8 million iPhones and 14.1 million iPads. Both numbers, for the most part, beat analyst predictions and are are higher than last year.
In terms of revenue and profit Apple made $37.5 billion and $8.2 billion respectively. EPS was at $8.26, Mac sales hit 4.6 million units compared to 4.9 million in the year-ago quarter and iPod sales were at 3.49 million compared to 5.3 million units a year-ago quarter.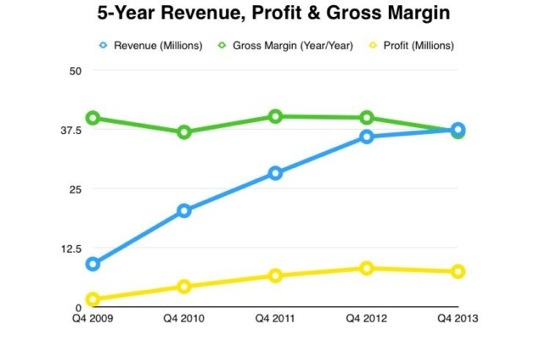 Tim Cook, Apple's CEO said "We're pleased to report a strong finish to an amazing year with record fourth quarter revenue, including sales of almost 34 million iPhones. We're excited to go into the holidays with our new iPhone 5c and iPhone 5s, iOS 7, the new iPad mini with Retina Display and the incredibly thin and light iPad Air, new MacBook Pros, the radical new Mac Pro, OS X Mavericks and the next generation iWork and iLife apps for OS X and iOS."
"We generated $9.9 billion in cash flow from operations and returned an additional $7.8 billion in cash to shareholders through dividends and share repurchases during the September quarter, bringing cumulative payments under our capital return program to $36 billion," said Peter Oppenheimer, Apple's CFO.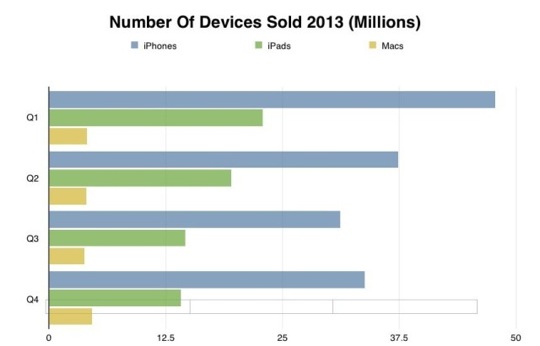 After the Q4 2013 earnings results were posted Tim Cook sent a company-wide emailing stating that Apple has never been stronger as a result of tighter collaboration between teams within the company. He will even be addressing the entire company in a meeting which will be broadcasted to Apple teams across the globe. 9To5Mac was able to get their hands on the email you can read below:
Team,

We've just posted financial results for fiscal Q4, including record-setting iPhone sales. I am happy to report that Apple's business has never been stronger, and we are heading into the holidays within amazing lineup led by the new iPhone 5s, iPhone 5c, the stunning iPad Air and iPad mini with Retina display. You and your teams work incredibly hard to deliver the very best products in the world, and our customers simply love them. I'm extremely proud of the collaboration going on across the company and everything we've accomplished as result of this great team effort.

Please join me for an employee communications meeting tomorrow at 9 AM Pacific time. The meeting will be broadcast to locations throughout Cupertino and Apple offices across the world. AppleWeb has a complete list of sites where you'll be able to watch live or see a replay in certain time zones. We've also created a link on AppleWeb where you can submit your questions in advance, and we'll do our best to answer as many as we can during the meeting. I look forward to hearing from you.

Tim
Some other interesting things came out of the earnings call such as Tim Cook reiterating that the iPhone 5c was never meant to be an entry-level smartphone, rather a mid-tier handset and more exciting "great new" product categories were even hinted.
Cook said during the earnings call that "significant opportunities ahead of us in both current product categories and new ones" and also that the company was working on some "great new products in areas where we do not participate today."
The bottom line is, 2014 is sure to be an exciting year for Apple.
To review Cult Of Mac has done a great job at highlighting both the good and bad from Apple's Q4 2013 results that you can take a look at below:
The Good
Revenue came in at $37.5 billion – up from $35.3 billion last quarter while also beating expectations of $36.82 billion.
EPS beat expectations of $7.92 with a total of $8.26 per diluted share.
33.8 million iPhones were sold in Q4 2013 (new record)
Gross margin was at 37% as expected
Revenue in Japan jumped 40% since last year, while China increased 6%
Mac sales only declined to 4.6 million which was above expectations
Apple made 15 acquisitions in 2013
Over $1 billion was generated through Education sales for first time ever
$36 billion has been returned to shareholders in the last five quarters
$146.8 billion – the amount of cash Apple has in the bank, but only 35.5 billion is located in the U.S.
iTunes made $4.4 billion in revenue
Apple Stores generated $4.5 billion in sales in Q4 2013
99 million people visited the Apple Store during the Q4 2013
Apple expects to make a record $58 billion next quarter.
The Bad
Net profit was at $7.5 billion compared to $8.8 billion last quarter and $8.2 billion in the year-ago quarter
14.1 million iPads were sold, barely nudging it above last year's total of 14 million and lower than the 14.5 million expected
iPod sales dropped  35% from 5.3 million units sold in Q4 2012 to only 3.49 million in Q4 2013
What do you think of this all? Drop us a line in the comments section below.
The post A Comprehensive Look At Apple's Fourth Quarter Financials appeared first on iJailbreak | Unconventional Jailbreak And iOS News.