Wednesday's Google I/O 2013 conference saw mostly software announcements – Google Music All Access (a music streaming service that will try to compete with Spotify); Game Services (Google's response to Game Center, the gaming scoreboard developed by Apple) and Hangouts (a service that will try to stop the growing domain of chatting alternatives like WhatsApp or Skype).
This last one now has a mobile app compatible with iOS and Android, available at both the App Store and Play Store respectively – Google didn't forget to release a desktop version through a Chrome browser extension either.
At first rumored to be named Babel (or Babble), Hangouts unifies all Google messaging platforms including Google+ and Gtalk.
It lets you send photographs, start video chats, as well as send text messages to your contacts on Google.
Once you launch the app, you'll be promoted to a window where you will have to sign in with your Gmail account.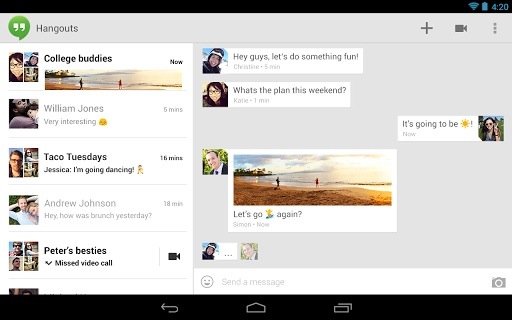 Hangouts has a pretty simple interface: white and grey with a "+" icon that enables you to start a conversation with one of your contacts, and a settings option.
This may not sound like much, but the key aspect of Hangouts is that unification of services previously mentioned. You won't have to swap apps to start or resume conversation.
On android, Hangouts replaces Gtalk, so if you like that one better I would advise you to stay away from Google's new app. I've got the Galaxy S3 mini and regret installing Hangouts – I used to like Gtalk better.
The problem I see with Hangouts is that it doesn't show online contacts, Gtalk's key aspect.
Still, you'll have to be the judge and decide whether you like it or not. Make sure you let us know your thoughts in the comment section below.
Download Hangouts for your platform [Download Link]
The post A Closer Look At Hangouts For iOS appeared first on iJailbreak.com | Jailbreak | iOS | Apple | Android | Google | Microsoft.